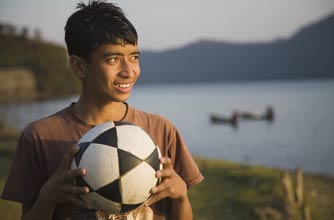 Physical Activity
10. Get moving:
Teenagers should aim for at least one hour of physical activity a day. This does not have to be all in one go - it can be in 20 minute chunks throughout the day. Try exercising together or as a family to boost motivation and get a great chance to talk to each other.
11. Alternative action:
If your teenager isn't a fan of traditional sports try interesting them in activities like bowling,
skating
or
yoga
which can all help boost their physical fitness. If they're self-conscious about exercising in public, how about renting an
exercise DVD
by your teen's favourite celebrity?
12. Get biking:
Cycling can help to give teenagers more independence and mobility and is also a great way to keep fit.
Mental
13. Internet-aches:
Young people are suffering 10 times more
back pain
than their parents did at the same age, according to a recent survey.
Social networking
, watching TV, or working on computers can be bad for your teenager's back. Encourage them to take breaks every hour or so to stretch.
14. Time to care:
With all the stress of homework,
body changes
and growing up, the teenage years can be a very difficult time. Find time to talk to your teenager regularly. Eating meals together can provide the perfect opportunity for this. Try to listen openly and offer your opinion without judging. Remember a conversation should be two-way, so share your thoughts and experience with them too.
Social
15. Alcohol:
In the UK, one in five secondary school pupils
drink regularly
and the number of alcohol-related deaths among young people has risen by 57% over the past 15 years. The best way to prevent drinking is to make the time to know what is happening in your child's life. One of the biggest factors leading to teenage drinking is peer pressure, so know who their friends are and what they're doing.
16. The drugs don't work:
Many
teenagers are curious about drugs
and a significant proportion has actually tried some form of drug once. Teach yourself about drugs and sit down with your teenager for an open discussion. Test their attitudes and try to be supportive.
17. Smoking:
A recent survey revealed that more than one in eight English school children between the ages of 11 and 15
smokes regularly
. Try not to use scare tactics to make them avoid/stop smoking, but give your mature teenagers the facts.
Cigarette smoking
kills more than 120,000 people every year in Britain alone.
18. Rest:
To look beautiful or handsome you've got to get your
sleep
. When you sleep, your body gets rid of waste products that have collected in your muscles during the day. It also builds up a fresh supply of energy for another day's activities. Because of growth and other changes occurring in their bodies, most teens require between 8 or 10 hours of sleep each night to look and feel their best. A hot drink before bedtime can help encourage a peaceful night.
Dr Miriam Stoppard is a writer, broadcaster, medical doctor and Fellow of the Royal College of Physicians and Chair of the Make Space for Health Steering Group, a partnership between children's charity 4Children and Nestlé. Make Space for Health is a programme of teenage health advice and activity to be delivered in youth centres.
Continued below...
Where to next?
-
Teens and alcohol
-
Could your teenager be smoking?
-
Six ways to boost your teen's confidence