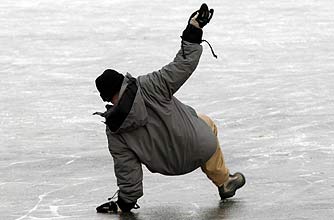 If you're outside
-
If you're walking, don't go too far:
If you suddenly feel
too cold
or unwell, you don't want a long walk back to your home
-
Remember the light can change very quickly
in the snow: one minute the sun is shining, the next the sky has gone dark grey and snowfall is making visibility difficult. Take a torch, even for a short journey.
-
Watch out for the ice:
You might see a glimpse of pavement and think it's safer than the snow, but don't be fooled, it could be icy - stick with the snow instead.
If you're driving
The
RAC
and the
AA
advise that you should only use the car for essential journeys. But if you absolutely have to drive:
- Make sure you have enough of the basics to keep the car going: petrol, oil, water.
- Take extra warm clothing and a flask of
hot soup
or a hot drink.
- Make sure someone knows you're going out and make sure your mobile phone is fully charged.
- Don't forget a map, just in case, a torch and whatever membership cards you need if you get stuck.
- Drive carefully and slowly, make sure your lights are on and are clear of snow.
Continued below...
- Clear snow from the roof of your car before starting your journey. Sudden braking can cause loose snow to shoot onto the bonnet and over your windscreen, meaning you won't be able to see where you're going!