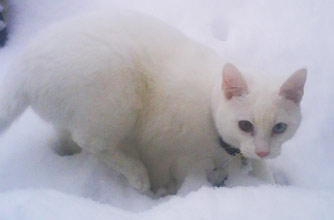 Dogs and cats
Dogs and cats need to be kept warm and safe. Although they have thick coats and a great sense of smell, don't let them stray too far.
If they're indoors they might still get cold, so wrap them in a blanket - but don't smother them, being too hot can be more uncomfortable for a dog or cat than being too cold.
Hamsters, rabbits, gerbils and other little pets
Our smaller, furry friends can really suffer in the winter, so make sure they have lots of food and water and lots of straw or newspaper - whatever they prefer.
Check on them regularly and if you think they are too cold take them out of their hutch and warm them up gently in your lap with a blanket - but be very gentle and don't make them too hot.
Looking after wildlife
If you have a pond and it's frozen over, break the ice very carefully so that you don't harm the animals or the plants - don't think the ice is an opportunity to show off your Dancing on Ice skills - it's very dangerous!
You could melt the ice with warm water, but again, be very gentle and don't pour boiling water straight into the pond.
Most other wild animals should be tucked away for their hibernation period, but if you find a stray hedgehog suffering in the snow, call the
RSPCA
or your local vet.
Throw out any old food or bird seed into the garden. Birds can find it difficult to find it food in snowy weather.
Winter fun
Snow and cold weather can be great fun too! Take the opportunity to go
go ice skating
or
find other Christmasy events in your area
. Or if you're stuck inside, make some
Christmas crafts
or play a
family party game
.
Continued below...
Where to next?
-
Stay warm with our cheap, comforting family meals
-
Make a snowman! Here's how
-
Send in your pics of snow scenes
-
See our silly pets gallery