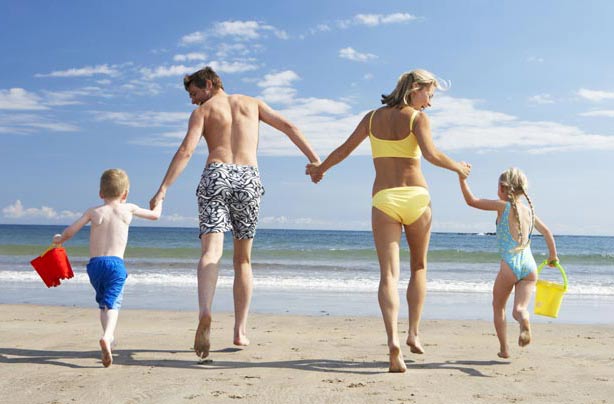 Staying in the UK for your summer holiday this year? We can help you keep the costs down. After all, the less spent on accommodation and travel, the more you can spend on fun days out!

Read through these 9 tips.
Getting there
1. By train
Learn the tricks of train travel and you can save loads.
Book early and do your research. Booking your travel in advance by phone or over the internet will nearly always save you money compared with just turning up on the day and buying a ticket. Visit National Rail Enquiries for more information.
Get a family and friends railcard. These cost £24 and save you 1/3 on adults rail travel and 60% on kids' rail travel. Up to 4 adults and 4 kids can travel on one railcard.
Split tickets. If you've got time to do some research, this little trick could save you a bundle. Pick the train you want from the National Rail Enquiries website, and there's a link that tells you which stations it stops at. Then see the price of tickets for smaller parts of your journey. For example, a standard fare from Newcastle to Preston costs £49.30 and you have to change at Carlisle. But if you a buy a ticket from Newcastle to Carlisle (£12.80) and then one from Carlisle to Preston (£17.40) you'll save £13.10. Splitting tickets can work even if you don't have to change trains - just make sure your tickets still cover you for the whole of your journey and that all your tickets are for the same train.
2. By bus
You can travel across the country for as little as £1 using
Megabus
or
National Express
. These journeys can be quite long, so take books, magazines and toys to keep your kids entertained - and don't forget the travel sickness tablets if you need them!
Continued below...
3. By car
If you are going in the car there are a few tricks to make your journey cost less.
Have less weight in the car. The heavier the car is, the more fuel you use. So get rid of the roof rack, don't take your bikes unless you're definitely going to use them and remove anything else you don't need.
Check your tyre pressure is right - you can do this at most petrol stations for free or for a small charge. It'll save you on fuel and make your tyres last longer too.
Turn the air conditioning off. It eats up your fuel!
Plan your journey carefully. If you don't get lost you'll need less petrol!
Check www.petrolprices.com to see where you can get the cheapest fuel. But don't spend an extra £1 driving to somewhere where you'll save 50p.
Take snacks. Motorway services are very expensive - take your own (healthier) snacks and sandwiches in the car and you'll save money on this too.
4. Find cheap accommodation
Use our discount voucher code at Haven to save up to 50% off a UK family holiday! It's valid for bookings up until October. Get the voucher code here
Go camping! As well as saving you a fortune, camping can make a holiday even more exciting. There's nothing like toasting your own marshmellows over the BBQ or fire. Find a campsite at www.ukcampsite.co.uk
Hostels are a great way to stay somewhere for cheap. Although they'll be basic, they'll have everything you need and many now have family rooms, even with en-suite bathrooms. www.hostelworld.com is just one of many websites advertising hostels. Just type 'hostels' into Google if you can't find what you want on there.
You can also save a fortune staying in a bed and breakfast. Do a bit of research and you can get some really great deals - try www.places2stay.co.uk
During holidays some universities rent out their student rooms for bargain prices - rooms in London start from £22. Try www.budgetstayuk.com for more places.
A holiday home could be another way to stay somewhere cheap, and you'll save money because you can cook your own food, wash your own clothes and so on. You'll also get more privacy, and won't have to hang a 'do not disturb' sign on your door! Look for one at www.holidayhomerental.co.uk or www.holiday-rentals.co.uk.
What to do when you get there
5. Make the most of free attractions
There are so many! Many museums are now free - and they're full of things for kids to do. www.enjoyengland.com to find details of them.
.
6. Pack a picnic
Take your own food and go somewhere that's free and you'll save loads. Take your kids to a beach, paddle in the sea and build sand castles. Britain has over 80 blue flag beaches - which means they're safe and clean. If that doesn't appeal to you, you could spend a day exploring a national park. We've got loads of ideas on fun, easy picnic recipes to get you started.
.
7. Go to cheap attractions or get cheap tickets
If you can stretch your budget a bit further, there are loads of opportunities to go to cheap attractions or get cheap tickets. Shop around on sites like www.english-heritage.org and www.discount-london.com.
Websites like www.applausestore.com give you the chance to be an audience member for radio or TV programmes for free. You might have to go on a waiting list for a while though - but it's well worth it if you've got the time.
.