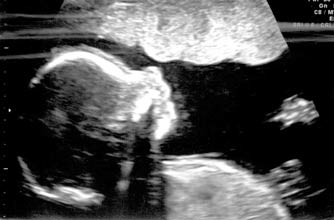 goodtoknow's Food and Diets Editor Anna is pregnant, so we've asked her to keep a diary of her pregnancy, telling you all the good bits and bad bits and asking for your help and comments.

This week Anna goes for her 20-week ultrasound scan and finds out the sex of the baby!
I'm oddly nervous again. I know Lenny is alive as he likes to wriggle and wriggle and wriggle, so I'm not scared that something bad has happened to him, but just that the sonographer will find something wrong.
I'm also nervous because we both really want to know what
sex the baby is
and everyone's been laying their bets. My dad wants another granddaughter as he's got one granddaughter and three grandsons. My mother-in-law thinks it's a girl because she decided that's what it was and then forgot that we didn't actually know and told everyone. My husband wants a girl but thinks it's a boy.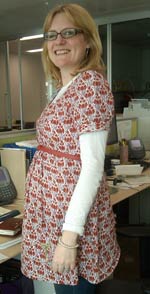 I'm pretty convinced it's a boy, but that's not maternal instinct. I had a dream where I was at the scan and I looked at the screen and it was just absolutely obvious that it was a boy. And that's been enough to convince me. Oh and the magpies. One for sorrow, two for joy, three for a girl, four for a boy... And the day before the scan I saw four! I don't really mind either way of course, as it's my first, but it's just the moment when she says... 'You're having a..." And then it's final! It's done! We'll know what we're having!

Anyway, so back to the scan. This one is where they check pretty much everything for any sign of anything going wrong. They check head, heart, limbs, spine, blood flow, kidneys etc etc and measure everything to make sure the baby's growing properly. If any abnormality shows up then they get a second opinion from another sonographer, or refer you to a specialist in foetal medicine.

Sometimes if a problem's found it just means that you have more monitoring and the problem corrects itself, or it can mean that they have to prepare for certain treatment when the baby's born. They also check the position of the placenta to make sure it's not going to be in the way when the baby tries to be born.

Lenny was doing somersaults while I was waiting for my appointment so I knew the sonographer was going to have a hard time. And sure enough, when we went in, the first thing the sonographer said was, what a wriggly baby! It took her a while to do the measurements, so we got to have a good long look at our baby. My husband commented on how it looked like lots of different animals and an alien, which kept making me laugh.

It was a fantastic experience. All the measurements were fine and she told us the baby was healthy and happy. And at the end the sonographer had a good look and told us what sex it is! But I'm not telling... You'll just have to wait and see!

- Coming up: Anna talks more about her scan in a video blog
- Previously: Anna shares the good advice she's got from her friends
- Read Anna's pregnancy diary from the beginning
- More about week 20 of pregnancy


More pregnancy help and advice
-
Our week-by-week pregnancy guide
-
Find out if you're having a boy or girl with our quiz
-
Different scans during pregnancy