Anna's pregnancy video: Week 28
See the amazing 3D/4D scan video of Anna's baby - she's been keeping a diary since she found out she was pregnant, telling you about the good and bad bits!
goodtoknow's Food and Diets Editor Anna is pregnant, so we've asked her to keep a diary of her pregnancy, telling you all the good bits and bad bits and asking for your help and comments. This week she goes for a 3D/4D scan and can't believe her eyes!
It seems like a very long time between a
20-week scan
and meeting your baby at 40 weeks... How do you know it's still OK in there? And I'd like to see the baby again sooner! So I start thinking about whether to go for one of those private 3D scans so I can say hello to Lenny again before the baby's due. We've already got a set of
3D images on the site of babies
at different stages of development in the womb, and they look amazing - like melted bronze babies! I also keep having this dream that Lenny has changed from one sex to the other suddenly so that I have a big shock when the baby's born. Of course every time you look something like that up on the internet you only find comments from people whose best friend/sister/cousin was told they were having one sex, only to discover they had the other one when it was born, even though that's really quite rare, so that's no comfort at all. So, the decision's made, I'm very excited at the idea of it and look around for somewhere that does them nearby.
A friend recommends
Cocoon
in central London to me. They do four different packages ranging from the bronze package for £160 up to the Platinum package for £270. I choose the Platinum one because I figure it's a once in a lifetime opportunity. I'll never be pregnant with this baby ever again! When I call them they tell me that 28 weeks would be an ideal time to do the scan so the baby still has room to move around, but is big enough to look like a real person!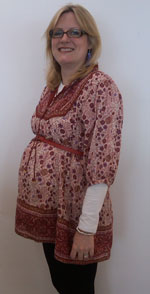 On the day I'm really excited. It feels like ages since I last saw Lenny and I'm keen for my husband to see its little face too! I grab a taxi from work as I'm running late and the driver tells me he has a special gift in telling what sex babies are. He insists mine is a girl. I grin and tell him whether he's right or not.

When I arrive it's very organised, clean and calm. I feel instantly at home. They offer me some water, hand me some magazines and give me a form to fill in. Then, five minutes later, my husband and I are led into the scanning room. The obstetric consultant I've booked to see takes a bit of history of the pregnancy, then gets to work. It's just like a normal scan to start with and he takes all the baby's measurements to make sure it's growing OK. All its measurements are fine and he tells me it weighs about 3lb now! Then it's time to turn the scan 3D and there it is! A face! A proper face! The baby puts its hands over its face, then back down again, smiles, grimaces and wriggles around. We're mesmerised. It takes my breath away. I'm beaming from ear to ear. What an incredible sight. The consultant points out that it has a dimple in its chin - my dad has that! And we're able to count all its fingers and toes too. I ask him to double check the sex and there's no doubt. It is doubly confirmed. I'm disappointed when the session ends. I could've watched our baby forever. But luckily I get to bring home a DVD of the baby as well as pictures and I transfer it onto my iPod too.

The following day, in the grey early morning, I turn over in bed and look at my sleeping husband and realise with a jolt that it's Lenny! It's exactly the same image as I was staring at on the screen the day before. So it looks like Mother Nature has done her job and is working her bonding trickery already! I sigh with happiness and go back to sleep.

With thanks to Cocoon, 0871 200 1490.
Anna wears top from Primark, maternity jeans, £30, from H&M.

- Coming up: Anna looks back at the first two trimesters
- Previously: Anna's pregnancy diary, week 27
- Read Anna's pregnancy diary from the beginning
- More about week 27 of pregnancy


More pregnancy help and advice
-
Travelling when pregnant
-
Our week-by-week pregnancy guide
Your rating