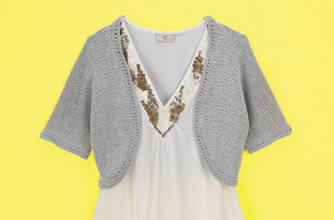 Get your needles and wool at the ready as we've got this stylish bolero cardigan knitting pattern just for you from Woman's Weekly
Creating their one-of-a-kind knitting patterns for over a century,
Woman's Weekly are sharing their designs exclusively with you on
goodtoknow. And to make things that bit easier all round we've
included a printable version of the pattern so all you need to do is
click, print and knit!
This bolero has short sleeves and shaped sides. It's knitted in one
piece in stocking-stitch with an eyelet border. The yarn is nylon.
Knitting pattern
Skill level:
Medium. Would suit a fairly experienced knitter.
Measurements
To fit sizes 81-86 (91) (97) (102) (107) cm/32-34 (36) (38) (40) (42) in.
Actual measurements, all round at underarms 91 (97) (103) (109) (115) cm/36 (38) (40 1/2) (42 3/4) (45 1/4) in.
Side seam, including edging 19 (19.5) (20) (21) (22) cm/7 ½ (7 3/4) (8) (8 1/4) (81/2) in.
Length to shoulder, including edging 37 (37.5) (39) (41.5) (43.5) cm/14 1/2 (14 3/4) (15 1/4) (16 1/4) (17) in.
Sleeve seam, including edging 9cm/3 1/2in.
Materials
4mm (No.8) and 5 1/2mm (No.5) knitting needles. A 4mm (No.8) circular knitting needle. One x 450g cone of Yeoman Tian (100% nylon). Yarn is available by mail order only and costs £14.95 per 450g cone, including p&p. We used Silver (21), but the yarn is also available in Navy, Bronze, Lilac, Blackand White. For more yarn details, write to: Yeoman Yarns Ltd, 36 Churchill Way, Fleckney, Leicester LE8 8UD. Call 0116240 4464.
Tension
20 stitches and 26 rows, to lO x 10 cm, over stocking stitch, using 5 1/2mm needles.
Abbreviations
K, knit; p, purl; st, stitch; ss, stocking st (k on right side and p on wrong side); tog, together; inc, increase (by working twice into same st); up1, pick up loop lying between needles and work into back of it; nil, meaning nothing is worked here for this size; skpo, slip1, kl, pass slip st over; yrn, yarn round needle to make a st.
Do remember...
Yarn amounts quoted are based on average
requirements and are therefore approximate. Instructions are given for
small 21 size. Where they vary, work figures in round brackets for
larger sizes. Instructions in square brackets are worked as stated
after 2nd bracket.
Click here for a printable version of the pattern