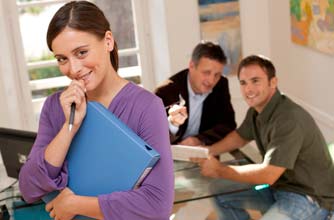 Here we asked Sarah Jackson, Chief Executive of Working Families to answer some of your worries about returning to work.
My company is so big/small I'm worried I won't get the right support
Sarah says there are advantages to taking maternity leave from both big and small companies: 'With a small organisation it's very personal, you probably know your manager really well and are committed to your job. You will probably be able to have conversations about your maternity leave very easily. Obviously, your rights are just the same as if you were working for a big company.
'A big organisation will have a big HR department and will be experienced in dealing with maternity leave. The processes and structures will be there. They might be a bit more distant dealing with you, but that's where a relationship with your line manager is important.
I'm worried about the relationship with my colleagues
Your colleagues could be worried that they're going to be left with a lot more work. Sarah says: 'Put yourself in their shoes. You might be thinking, "Baby, baby, baby" but they still want to get on with their job.
'Keep communication open - if you think there's going to be no impact, tell them 'I'm still the same person, I'm still committed to my job.' Make sure they're not worried and they know they can still rely on you.'
I think I'm being treated unfairly
In the vast majority of cases, taking maternity leave is a positive experience. Most bosses want to handle the situation properly. If something's going wrong, it's usually because they're not sure what to do, not because they're being malicious.
However, a small minority of bosses will use your vulnerability as a pregnant woman as a chance to discriminate against you. If you feel you are being treated unfairly, get in touch with Working Families - who offer employment and benefits advice - visit workingfamilies.org.uk.
Continued below...
Where to next?
-
More info on your maternity rights
-
Sign up for our pregnancy newsletter
-
Pregnancy and health issues