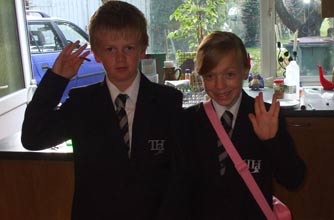 What's different in my relationship with my pre-teens?
Another new obsession born out of their expanding social lives is the scourge that is Facebook. A friend of mine told a teacher that she felt her daughter had lost her education to Facebook. [She had just failed her A'Levels.] The teacher agreed, saying that he believed a whole generation was in danger of going the same way.
Social networking sites
do allow children unprecedented and unlimited access to their friends and appear hugely addictive. There are many occasions when I sit in the living room with one of them tapping away on their dad's laptop while the other tweets - or is it twitters - on his Ipod. It's as though I've become invisible. Once half term is over, Draconian rules and time restrictions are going to be imposed - I'm expecting their first proper teenage tantrum!
Continued below...
Talking to my pre-teens
So while I would certainly advise any parent to limit the amount of time their child spends on the internet, I would also urge them to monitor what they are doing. It astonishes me how many of the children have no protection on their walls and who accept people as friends without the slightest knowledge of who they are. They collect friends like they would trading cards and - despite the fact that they've all had the talk about internet safety from the community police officer - it seems to have gone in one ear and out the
other.
So a lot has changed in one brief term of secondary school and while I am surprised, I'm not complaining. Despite exhibiting some of the early symptoms of teenagedom, my little inbetweenies still like to snuggle up with me under a duvet to watch X Factor, enjoy having their backs tickled and insist on getting tucked into bed at night. They remain a weird mixture of child and teenager. It's an intriguing blend and one which I fully intend to savour.
Are you going through the same thing as Janet? Got kids turning into adolescents early?
We want to hear your stories about your pre teens and teens so leave a comment below or email us at
goodtoknow@ipcmedia.com
Where to next?
Find everything you need to know on
pre-teens
and
teens
Are yours growing up too fast?
Read this
What to expect at
secondary school
Bullying help and advice
Puberty
Dr Miriam Stoppard's teen health tips