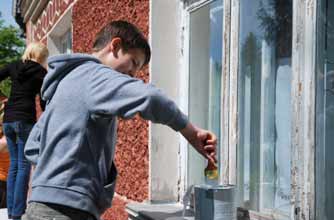 The laws for teenagers working change depending on their age - at different ages they're allowed to work for different hours and once they leave school, they're entitled to a minimum wage. Here, we explain in simple terms what your teen should expect from a job, and what they're allowed to do.
What the law says
Working hours
Under 16:
Children can only work from the age of 13 (with a few exceptions, such as acting on TV). The law on working hours for a teen aged 13-16 says:
During term time they can only work a maximum of 12 hours per week.
They're not allowed to work after 7pm.
During school holidays they are allowed to work 25 hours per week if they are 13-14, and 35 hours per week if they are 15-16.
There are also restrictions on how many hours per day - for example they're only allowed to work for 2 hours on a Sunday.
Local authorities have restrictions on the type of work that under 16s can do - for example, they won't be allowed to work on a factory or building site. Check with your local authority for any other specifics.
At school leaving age:
Once a teenager has reached 16 and has finished their GCSE years, they are classed as a young worker (until they reach 18). The law on working hours for a young worker say:
They can't work for more than 40 hours per week or 8 hours per day (although some exclusions apply)
If they're working for more than 4 hours, they're entitled to a break of at least 30 minutes.
They can't work between 10pm - 6am (although some exclusions apply)
They must take 2 days a week off - these days must be taken together.
Visit
the government's website
for more info on working hours and young workers.
Payment
Anyone aged 16-17 is entitled to earn £3.57 per hour. Once they reach 18, they're entitled to £4.83. There's isn't a national minimum wage for those under 16.
Your teen must receive a written payslip every time they get their weekly or monthly payment. A payslip will state how much they've been paid, plus how much tax and National Insurance has been deducted.
Tax
Anyone can earn up to £6,475 per year without paying income tax - but teens who work a lot of hours in the holidays may find they get taxed unnecessarily - as the amount they earn per week would go be more than £6,475 over a year if they earned it every week. To prevent this from happening, get your teen to ask for a P38S form when they start work. They'll still pay National Insurance tax if they earn over £110 per week.
If your teen has already paid more tax then they should have, it is possible to claim the tax back.
More info on claiming tax back
Contracts
Your teen should get a written statement of employment within 2 months of working, which will give them details like how much they get paid, how much holiday they're entitled to and how much notice they have to give for holidays.
Problems at work
All workers should be protected from bullying and discrimination at work. Get more advice on how to solve problems at work - formally and informally - from the
government's website
Continued below...
Where to next?
-
More advice on teens and money
-
How to talk to your teen
-
Parents' guide to gap years