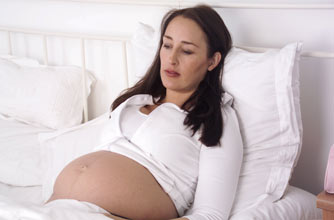 Continued below...
How many times have you heard a birth story that involved hours of painful labour, ending up with an emergency Caesarean section?
For most women this is the worst of all worlds - had they known they were going to have a C-section they could've avoided the whole painful labour process. But now, a new test that's already being used in other European countries may be able to predict whether you'll need a Caesarean.
Researchers in Sweden have discovered that when high levels of lactic acid are
measured in the amniotic fluid, it's unlikely the mother will be able to deliver vaginally. Measuring this acid should help reduce the number of Caesareans for women who may not need them and help women who do to avoid the risk of complications and unnecessary pain from a long birth.
How does the test work?

The hormone oxytocin is usually given to women in cases of slow labours to stimulate the uterus into contracting, but not all women respond to it. The new test should help doctors work out which women may go on to deliver vaginally, as low levels of lactic acid suggest the uterus can still produce the contractions needed to push out the baby. But a high level of lactic acid in the amniotic fluid shows that the uterus is exhausted, and an oxytocin infusion won't help, so a Caesarean is the best option.
In the UK, more than half of Caesareans are emergency rather than elective procedures, so let's hope that this test arrives in the UK very soon!
What do you think? Is it a medical breakthrough for women? Tell us on Facebook
Where to next?
-Labour and birth

-Can I choose a Caesarean?

-Caesareans: Polly's story