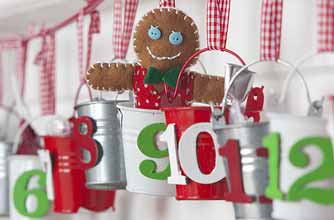 Continued below...
Want to make your house festive and need something for the kids to do, too? This bucket Advent calendar is really fun to make and will brighten up any corner!
Allow: 1½ hours

Skill level: Beginner
Buy everything you need from Hobbycraft:

Mini buckets - white, silver and red 

Cardboard numbers

Acrylic paint - green, red and white 

Red gingham ribbon - 9mm and 6mm

Glue

What you do:
Paint the card numbers with acrylic paints, starting with 1-red, 2-green and 3-white.
Glue the red numbers to the silver buckets, green to the white and white to the red.
Tie each bucket to a length of ribbon, starting from number 1.
Once all the buckets are strung, fill with goodies and hang along a mantelpiece or on the wall.
Hints and tips
Why not tie some of the buckets to your Christmas tree or hide them around the house!
Where to next:
- Make your own Christmas stockings
- Make your own Christmas crackers
- Make your own Advent wreath