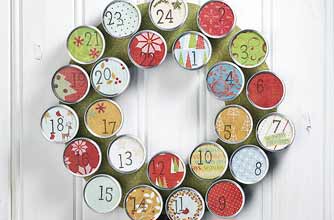 We love this twist on the classic advent calendar and homemade Christmas wreath! Branch out from a choccy Peppa Pig one this year and get crafty with the kids to make this gorgeous advent wreath. It's realy not as hard as it looks and you can personalise it with the little ones' favourite treats.

We'd love to see pictures of your creations if you have a go at making an advent wreath: you can add them to the comments section below, email them to us at goodtoknow@ipcmedia.com or upload them to our Facebook page.


Continued below...
Allow:
2 hours
Skill level:
Advanced
Buy what you need from Hobbycraft online:
Round tin favor kit
Alphamania clear stamps
Black pigment ink
Christmas themed scrapbooking papers
Craft punch 2" circle
PVA glue
Spray adhesive
Hot glue gun
Strong card 12" square
Ribbon - 1m
A selection of sequins, glitter and embellishments
Treats for your tins, like sweets, jokes or small toys

What you do:
Use spray adhesive to stick a sheet of decorative paper to the card. To make the wreath base, use a compass or two plates to draw concentric circles and cut out.
Arrange 24 tins on the card base and glue into position with glue gun. Add the hanging ribbon and ribbon bow in the same way.
Cut 24 circles of patterned paper. Rubber stamp a number 1-24 to each.
Decorate the circles with the embellishments and use a tiny amount of PVA glue to secure each circle to the inside of a tin lid.
Leave to dry before filling with treats and hanging.
Where to next?
- Make your own Christmas stockings
- Make your own Advent calendar