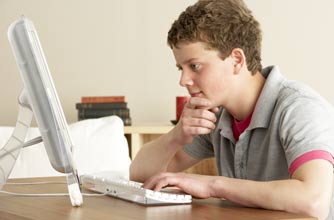 You can help your kids to produce work that they're proud of whether they're in primary or secondary school. Even if they're older and you don't understand lots about the subject, just helping them to get organised and giving them the right tools to product good work will make a big difference.


Microsoft Word 2010 is great for writing essays and reports, but Microsoft Office 2010 also other features that can be used for different types of homework.

Posters & worksheets. Younger children are likely to be set work that involves things like making posters, brochures or worksheets from time to time. With Microsoft Word 2010 they can easily create attractive work using different fonts, background colours and inserting photos or images. (Make sure you check the teacher is happy for your child to use the computer for their homework).
Presentations. As they get older, your kids will have more challenging assignments and will probably be expected to give presentations in some subjects. Using Microsoft PowerPoint 2010 will allow them to make their presentation attractive as it's easy to import graphics, pictures, videos and add colourful backgrounds and fun text effects. Remind them that the content of the presentation is more important than the effects though, and get them to run through it with you before they have to do it front of their class. Encourage them to speak slowly and to talk around the subject - not just read the PowerPoint out.
Bigger projects. Once your kids become teens they'll have to start tackling revision and coursework, and this is where being organised will really make a difference. Microsoft OneNote 2010 is ideal for keeping track of bigger projects - it's easy to keep notes for lots of different subjects in one place and has loads of helpful features. Tables can be used to keep track of deadlines while to-do lists with checkboxes can help your kids to keep on top of things. They can add text, videos, links and images quickly and highlight important bits. It also saves automatically so they'll never lose work. See our example below of how a project using OneNote could look.
Continued below...
Where to next?
-
Download a free trial of Microsoft Office 2010
-
How to get kids to do the jobs they hate