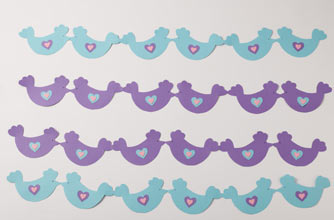 Join strips of chicks together to make up any length of Easter decorations you choose!
You will need:
A2 sheet of very thin card or stiff paper
Contrasting papers for heart trims
Method
1. Enlarge chick C by 150 per cent on a photocopier and make a template- get the template here. Fold a strip of A2 card concertina style with folds 10.5cm apart (slightly smaller than size of chick).
2. Position template with the tip of beak and tail overlapping opposite folds and draw round. Using either scissors or a craft knife, cut out the shape and unfold to reveal a complete row of chicks. Decorate each one with a coloured heart, then stick a small heart in the centre. Dot eyes with a black pen.