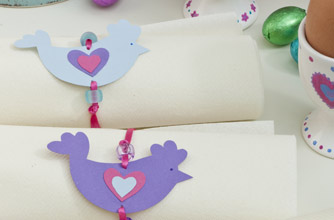 Add a colourful touch to Easter meals by making your own napkin rings.
Method
1. Enlarge chick B on a photocopier by 150 per cent- get the template here. Then follow Step 2 for tree trims to produce a selection of chicks (decorating one side only).
2. Punch a 3mm hole in the top and bottom of each chick. Thread 30cm of 3mm ribbon through holes (from front), add contrasting beads on each side and knot ribbon to secure. Tie round a rolled napkin with a bow. Trim off any excess ribbon, snipping ends diagonally.