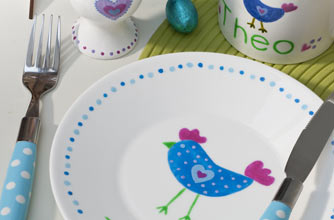 Turn plain china into something special with ceramic paint.
You will need:

Plain white ceramic plate and mug
Mid blue, green, light blue, bright pink and lilac ceramic paint
Medium and fine artist's paintbrushes
Method
1. Trace chick B, write your choice of name on another piece of tracing paper, and roughly cut out tracings- you can find chick B by clicking here. Turn them over and redraw with a soft pencil. Tape tracings right side up on the plate and redraw with a sharp pencil to transfer design. Remove tracings.
2. Similarly, trace name onto mug, 1cm above base. Decrease chicken motif on a photocopier to fit your mug, then trace above the name.
3. Paint the body of the chicks with mid-blue ceramic paint and the tail feathers and comb with bright pink, using a medium brush. Use a fine brush to paint the beak, legs and name green, and then to apply a row of alternate mid- and light blue dots to edge of plate and mug.
4. When the paint has dried, use the fine brush to paint a light blue heart and dot an eye and apply lilac dots at random on the chicken. When dry, paint a smaller pink heart on the blue heart. Add tiny pink hearts around name on mug, and a few lilac dots above.
5. Set the painted china aside to dry, then follow the paint manufacturer's instructions to set the paints (usually by baking).