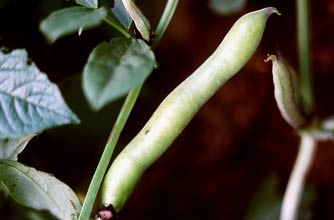 With just a little bit of work each month, you'll have fresh beans all through summer and some of autumn!
Did you know?
Although they're called French beans, they originate from Peru and have been grown by North American Indians for 5,000 years, so they must be good!
What you'll need
French bean seeds
Compost
General fertiliser like Fish, Blood and Bonemeal
Slug pellets
Canes and twine (for some varieties)
Trowel
When to start planting?
April.
When are they ready?
June - October.
Where to plant?
In a sheltered spot to avoid wind damage.
Step-by-step guide
1. A fortnight before planting, fork compost and a general fertiliser into the soil. 2. Sow your seeds from late April / May outdoors, spacing your seeds about 10cm (4in) apart. Alternatively, you can start your plants off in 7.5cm (3in) pots and plant out after the frosts.
3. Protect your plants with slug pellets
4. If you've chosen a climbing variety, support them by attaching them to canes with twine.
5. Harvest young pods regularly as this will encourage more flower production.
Cost
You can get a pack of seeds for less than £2.
Top tip for growing
Sew a new batch of beans every month until mid July and you'll have lots of beans until autumn.
Goodtoknow's easy gardening rating
2/5 - but worth the effort for all the beans you'll get!
Bean recipes
-
Greens and beans recipe
-
Green beans with almonds
-
Green bean puree
Continued below...
Where to next?
-
10 fun gardening ideas for kids
-
Family days out
-
Entertain your kids for free