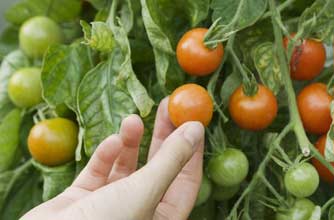 Growing tomatoes is easy to do in the garden, in a greenhouse or even just on a sunny window ledge. And they're well worth the effort, home-grown tomatoes always taste the best.
Did you know?
Tomatoes are sometimes known as a 'super superfood'. Studies have shown that they can protect against heart disease, lower cholesterol and they're full of anti oxidants. They've also been suggested as a good hangover cure.
What you'll need
Tomato seeds
Multi-purpose compost
Vermiculite
Small pot to sow all seeds in at first
Variety of small pots to pot them individually once germinated
Variety of larger pots to for final potting
High potash fertiliser
Garden canes
Either: A plastic cover, Dithane 945 or a copper based fungicide


When to start planting?
Start growing tomatoes by planting indoor varieties in Feb, outdoor varieties in early April.
When are they ready?
July - August.
Where to plant?
In a warm, sunny, sheltered spot. You can get both indoor and outdoor varieties - so buy outdoor varieties if you don't have a greenhouse.
Step-by-step guide
Sow a few seeds onto the surface of a small pot of moist seed compost.
Cover with vermiculite and place in a warm bright spot.
When the seedlings germinate, pot them individually and leave them to grow, feeding and watering regularly.
Final potting should be in a generous container filled with multipurpose compost.
Water regularly and feed weekly with a high potash fertiliser.
Support tall plants with canes.
From early June, protect outdoor plants with a plastic cover or spray with Dithane 945 or a copper based fungicide.


Cost
Around £2 for a pack of seeds.
Top tip for growing
Once they're in their final pots, regularly mist flowers and foliage to aid fruit set.
Goodtoknow's easy gardening rating:
2/5 - easy to get started but take quite a bit of care while they're growing.
Continued below...
Tomato recipes
-
20 ways with tomatoes
-
Tomato soup recipes
-
More tomato recipes