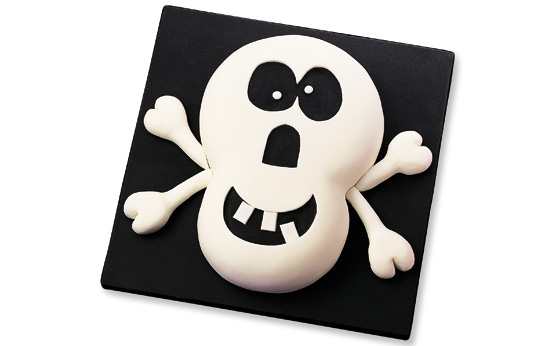 From pirate inspired sandwiches and crisps, to chocolate and sweets and of course, the all-important birthday cake! We've got loads of fun, tasty and easy-to-make pirate themed recipes guaranteed to fill the tummies of all the little pirates at the party.
Birthday cakes
Pirate party
cakes can be anything from a
basic sponge cake
with a treasure island map made out of coloured icing on top, to sunken pirate ships or treasure chests filled with 'gold'.
Depending on how much time, money and patience you have, we've got recipes to make a
treasure map cake
or a
skull & crossbones cake.
But, you don't have to make a themed cake, cupcakes or giant cupcakes are just as delicious and you can always decorate them with pirate colours such as red, white and black. We've got a host of decorative cupcakes you could try as well as a
giant cupcake recipe
(with a helpful video) to give the wow factor. If you just want to buy a cake, we've rounded up the
best pirate cakes on the high street
.
You can also get the kids involved with our 10 fairy cakes to make with the kids or follow our simple and easy-to-follow vanilla cupcakes recipe and decorate however you wish using our handy cake decorating tips

If you need more inspiration, check out our gallery of kids' birthday cake ideas and birthday cakes our goodtoknow users have made.

goodtoknow tip: You can find pirate cake decorations such as plastic figures, masts and treasure at stores including Toys'R'Us, Early Learning Centre and Toymaster.
Party food: Savoury

Party food for a pirate party can be made really fun by the names you decide to call everything. Obviously, you don't want to be serving authentic pirate groul but you can try and fool the kids by giving our delicious recipes imaginative names. Remember, party food can consist of almost anything you want in bite-size pieces but
generally, you can keep it nice and simple with small, easy-to-make snacks and treats perfect for kids to pick at when they're hungry.


Party food: Sweet
Party drinks
Orangatang cocktail- aka Jolly Roger juice - This is just orange and cranberry juice but the kids will love the name
Morning star cocktail - aka Ruby punch - You can adapt this recipe slightly using flavoured and coloured ice cubes. The night before the party, fill ice cube trays up with cranberry juice, or a red fruit squash, then at the party drop a few cubes into glasses lemonade to make them look as though jewels are floating in them.