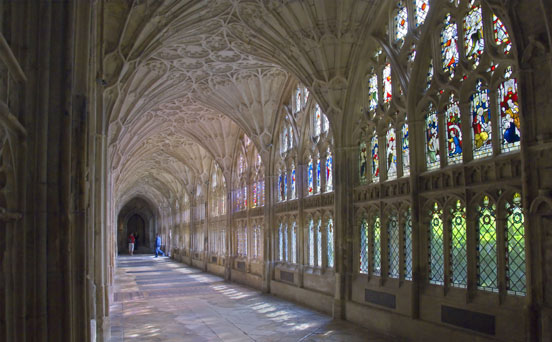 Continued below...
Gloucester Cathedral, Gloucester
You may not meet Nearly Headless Nick or Moaning Myrtle in the halls of this historic cathedral but on a stroll around the building, you might just recognise some of Hogwarts' most-famous corridors. Do you remember when mysterious graffiti written in blood warned that the Chamber of Secrets had been opened? Or when Moaning Myrtle's toilet flooded? Well, it all happened right here at Gloucester Cathedral. Not to mention when Harry and Ron battled the cave-troll.
Touring tip:
Take a tour offered by the volunteer guides where you'll be shown how film-makers carefully disguised the building's religious nature. For example, images of Adam and Eve in the stained glass windows were clothed and their foreheads were given a lightning-shaped scar like Harry's.