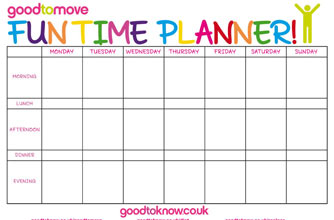 Childhood obesity is on the rise, according to the Department of Health. With time often against us it's sometimes hard to fit activities in. However, a new study reveals exercising for a mere 15 minutes a day will result in better health and a longer life!

Here at goodtoknow we've created a handy fun time planner, it's a great way for kids to get excited about exercise and starting off with just 15 minutes of exercise will really help improve their health.


Filling in the planner with the activities they want to do will make exercising fun, and they won't even notice they're burning calories. When they complete their 15 minutes a day you can stick stars or stickers on the planner, with different colours for each child to create a little friendly competition or print off a copy for each of your children. The kids will feel really proud when their weekly planner is full and feel a real sense of achievement.
Use these links below to print off your planner and checklist and stick it on the fridge now!

FREE downloadable fun time planner
Continued below...
FREE downloadable activities checklist


Find out more
- Move more and have fun with goodtomove
- 30 fun activities to get the kids moving more
- Top motivation techniques from Denise Lewis on how to get your kids moving more