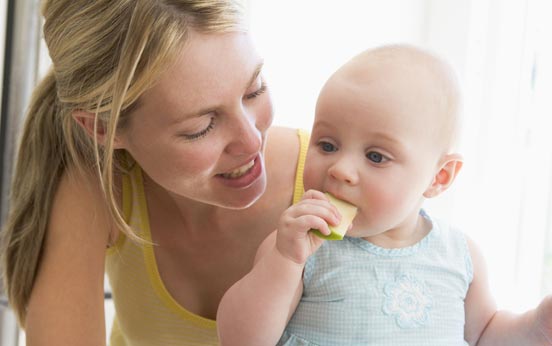 Every baby is different and this meal planner should only be used as a guide. Always go at your baby's pace and never force feed them. If you're worried about your baby's weight or have any questions, ask your health visitor.
All babies are different, some will have sprouted a couple of teeth by now and some won't have any yet. Either way, now's the time to get your baby used to a few lumps and bumps for stage 2 of baby weaning.
Try using a baby food mill or masher instead of blending your baby's meal to a smooth puree. If feeding your baby lumpier meals isn't going smoothly and your heart skips a beat everytime he gags or chokes on another spoonful, go back to pureeing your baby's meal and try a lumpy version again in a couple of days time. Annabel Karmel and other experienced mums also have some great tips below, if your baby is struggling with lumps.
As your baby becomes hungrier you can add snacks and even desserts to his 3-meals-a-day diet. Snacks and desserts are a great way for your baby to experiment with new foods and you can use them to add more dairy, grains, fruits and vegetables to your baby's day. And if your baby's teething he'll love our
banana yogurt pops
to help cool his gums.
Some babies will naturally eat more or less than others and you should never force feed your baby, but there's no harm in offering extra snacks and desserts incase they're having a hungry day.
Important: Offer water with every meal and throughout the day. Each day contains at least 3 portions each of carbohydrates, fruit and veg, 2 portions of protein and some dairy. Morning and evening milk feeds are not included on this planner but should still be offered.
Annabel Karmel answers your questions
My son is 8 months old, how big should his portion sizes be?
'I can never really recommend portion sizes as every child has a different metabolism and appetite. Your baby tends to know when they've had enough and unless they become too fat or thin, then they should be eating exactly what they need. Also not every time your baby cries means they're hungry.'
What can I do to encourage my 7-month old to eat from a spoon?
'Start with using your finger to feed your baby with, so they get used to having something in their mouth, then try different types of spoons like a flat or soft tip spoon.'
My 8-month old won't chew lumpier foods and she ends up gagging and choking on them. How can I get past this stage and should I continue feeding her these lumpier foods?
'Lots of babies don't like lumps but the longer you give smoother purees the more fussy they could become. What they may prefer is an overall lumpiness than a smooth puree with surprise lumps in it so try very tiny pasta shapes or couscous and stir in their favourite puree so they have a familiar taste with the lumpier pasta shapes.'
I'm surprised that my son is given desserts such as custard and rice pudding with fruit at nursery. Aren't these too sugary?
'Yes they are. There's no reason why babies should have sugar in the first year. If you want to sweeten things, try using dried apricots, prunes, apples or apple juice instead of sugar. You can add a little sugar to their food after a year but even then you don't want to give too much sugar at any stage.'
Mum's top weaning tips
'Finlay reacted well when I made things like minestrone soup which had bits of pasta in to let him get used to lumpier foods. I also let him have toast fingers with lighter meals such as soups and his hand-to-mouth coordination has developed really well.'
Glenda, 32, mum of Finlay aged 8 and a half months old
'I found that steamed fruit and veg, rather than boiled, made the tastiest meals and I loved the baby food mill I bought from Boots for a fiver for turning Sam's meals into textured purees which weren't too smooth or too lumpy either.'
Jenny Bounsall, mum of Sam aged 10 months old
'I was told that papaya helps with constipation and it's my baby's favourite fruit too'
Poorvi, mum of Aanya aged 9 months old
Click on one of the pictures to get to another meal planner: