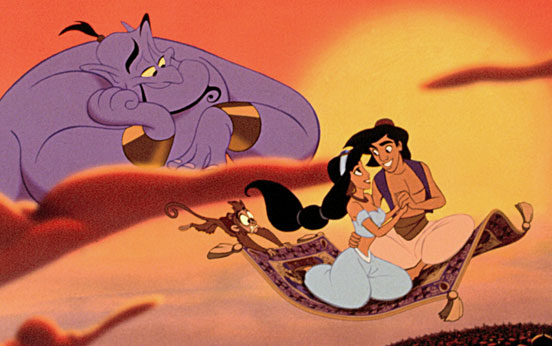 To give the kids something fun to do while they enjoy the party, have some craft materials at the ready so they create and take home a momentum of the Disney party. Here are some of our ideas to get you started.Aladdin party crafts
Make a Princess Jasmine jewelled headband: This is a creative activity the girls at the party could do. They'll be able to make their own headbands that they can either wear at the party or take home afterwards. You will need a selection of elasticated material headbands or ribbon that you could tie round their heads and a selection of felt shapes, plastic jewels, buttons, sequins, glitter, glue and a needle and thread. Jasmine's headband was turquoise with a large gold and blue jewel in the middle. The girls can recreate that one or make their own from any colour headbands and jewels. See our princess party page for a FREE tiara template you can print off at home, girls can decorate and colour in themseleves!
Make a magic carpet: These are great for kids with creative imaginations and can be made as elaborately as you want - simply start off with small squares or rectangles of white material you can get from a fabric store, then let the kids decorate them however they want. Use fabric paints, general hand paints, pens, glitter and any other craft materials you have lying around. Each child can write their names on them or create a special Aladdin themed design on them. If they dry in time the kids can sit on their carpets to eat lunch, if not they can be rolled up and taken home at the end of the party.
The Little Mermaid party crafts
Make sea shell shapes: For this you will need to buy a mould (there are lots available on Amazon including a Fimo Sea Shell pack). You can fill the moulds with your choice of mixture including plaster - which the kids could paint, clay, wax, chocolate, or soap. There's a huge variety of crafts you could make depending on what materials you have and the age of the children at the party. Chocolate or wax may be best as they set the quickest or you could make a selection of plaster shells in advance and let the children paint them during the party.
Make shell necklaces: If you live by the beach and can collect lots of little shells that would be perfect otherwise you will need to visit a garden centre or other bits-and-bobs shop or buy shells online to make these pretty necklaces at The Little Mermaid party. You will also need some string or ribbon to use as the necklace but it shouldn't be too thick or you won't be able to get the shells along it. Pierce a hole in the shells delicately with a sharp knife or small screwdriver and thread the material through them. You might be able to buy special shells designed for jewellery from the internet which would save the hassle of piercing natural ones or you can buy plastic shells that already have holes in.
The Lion King party crafts
Bake animal shaped biscuits: These are a fun (and tasty) craft you could get the kids involved with during The Lion King party. You'll need the basic cookie or biscuit recipe plus various animal-shaped cookie cutters, these can be found in most cookery shops, some toy stores, supermarkets or online. The kids can decorate them with different coloured icing and then eat them after the main party meal or take them home in their party bags.
Make hand and feet paint prints: Let the kids create their own hand and feet prints like Simba does in the film. Use any craft paints you can find - the Early Learning Centre or most toy stores sell them. Then let the kids cover their hands and feet in the paint and press down on either individual sheets of white paper or one long piece that they can all print on. The kids can compare their hand and feet sizes with their friends.
Alice in Wonderland party crafts
Continued below...
Create teapot and cup and saucer chocolates: This is a fun way for the kids to get creative in the kitchen during the party. Firstly you will need a mould, there are lots available online, or you might be able to find them in cookery stores, as well as different types of chocolate, dark, milk and white, to go in the mould. Melt the chocolates in a glass bowl over some simmering water until all the lumps have gone then pour into the mould and let them set in the fridge. You could also create marbled chocolates by lightly mixing together two varieties of the chocolate. When they have set let the kids eat them or pop a few in their party bags to take home or if they're not quite set you could always take them into school the following week.
Bake heart shaped biscuits: This is another kitchen craft to keep the kids entertained at the party. You will need a heart shaped biscuit cutter, a biscuit recipe, and lots of different coloured icing and toppings such as chocolate chips, silver balls, hundreds and thousands and jelly sweets. If you wanted you could pre-cook the biscuits and just let the kids decorate them at the party it would save all the hassle of actually making and baking them with lots of children running around.