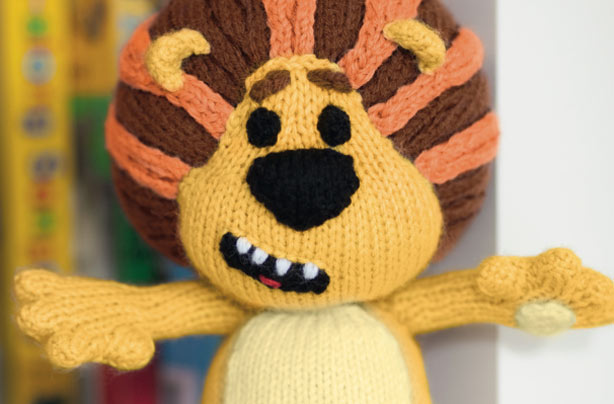 Knit Raa Raa the Noisy Lion, the much-loved character from the hit TV show and be a roaring hit with the kids.
Raa Raa the Noisy Lion knitting pattern:
This pattern is suitable for experienced knitters.
Measurements:
Height
25cm/10in
Materials you'll need:

1 x 50g (165-metre) ball of Sirdar Snuggly DK (55 per cent nylon, 45 per cent acrylic) in each of Brown (416), Rust (423), Yellow (418) and Lemon (252)
1 x 25g (70-metre) ball of Hayfield Bonus Toytime DK (100 per cent acrylic) in Black (965). Length of DK yarn in White and Red. 2skeins of embroidery thread in Dark Brown and 1 skein in Rust. Pair of 3mm (No. 11) knitting
needles
Washable toy stuffing
Tweezers.
For yarn stockists, write to Sirdar Spinning Ltd, Flanshaw Lane, Alverthorpe, Wakefield, W Yorks WF2 9ND, call 01924 371 501 or see
www.sirdar.co.uk
.
Tension:
26 stitches and 36 rows, to 10 x 10cm, over stocking stitch using 3mm needles.
Knitting pattern abbreviations:
K, knit; p, purl; st, stitch; sl, slip; tog, together; k2togb or p2togb, k2tog or p2tog through back of sts; inc, increase (work twice into same st); dec, decrease (work 2 sts tog); ss, stocking st (k on right side, p on wrong side).
Note:
The figures in square brackets are worked as stated after the 2nd bracket.
Go to the next page to start knitting Rah Rah the Noisy Lion: