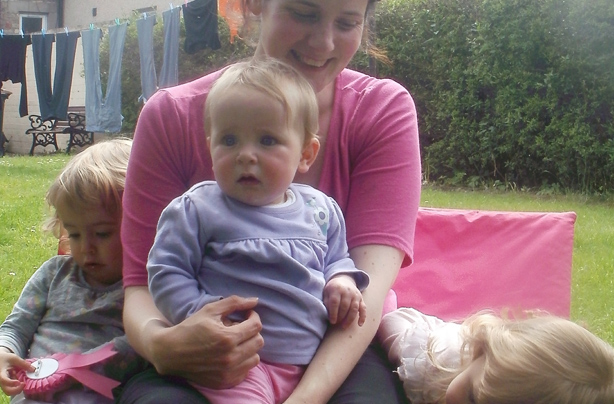 Continued below...
Amy Condon is a mum to 3 kids, who are all under 3! Yes, you heard us right. She'll be writing about all the challenges she faces, the fun times and general ups and downs of having 3 children all at the toddler stage.
'For most of my adult life, I knew I might struggle to have kids. I spent years swallowing down the overwhelming sadness whenever I imagined never being a mum. I lowered my hopes. I prepared for the worst. What I didn't prepare for was having 3 kids in less than two years.
Happily married for a year, but without the merest hint of tiny feet to do any pitter-pattering, we started fertility treatment. Numerous tests, all manner of drugs and a course of IVF later, we got lucky. Very lucky. The scan showed two little heartbeats, and I soon became a mum to two gorgeous girls, G and T. Finally, the perfect little family I'd always dreamed of. But then I started to get clucky. Perhaps the lack of sleep drove me a bit mad, but I realised that although I'd always wanted just two kids, now I felt as though I'd missed out. I also wanted two pregnancies. Two goes at being a new mum. Two chances to snuggle up with a tiny bundle to whom I'm the whole world. So we started thinking about when to try using one of the five embryos we had frozen.
The girls have just turned one, so perhaps we'll give it another year. Or should we have it implanted in the summer, so I don't have to be big and pregnant when it's hot? But, hang on, why am I feeling so irritable? And tired? And nauseated? I'll just do a pregnancy test to rule it out...
Nine months later, along came M. So I have not one, but 3 little miracle girls, closer together than I ever imagined. In fact, had I by some incredible feat of will been able to start this blog when M was born, it could have been entitled '3 under 2'. So this is my little window into a world of extreme parenting. A never-ending whirlwind of nappies and nursery rhymes. A sleep-deprived dreamland of tummy bugs and teething. This month saw our fifth wedding anniversary, and I simply can't believe all that's happened in the past half-decade. OK, so my figure is a distant memory and I have lines and grey hairs that would have made that bride wince. But I'm living the dream. I'm a mum; to 3! Feels good to say it, and I wouldn't change my life for anything. Although a night off might be nice. Or a bath. Or a nap...'
Amy's other blog posts...