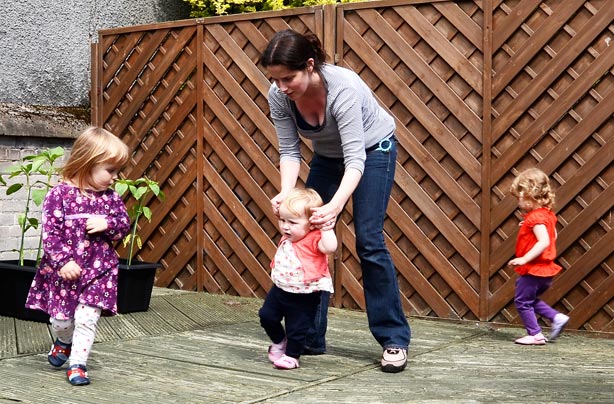 Continued below...
Amy Condon is a mum to 3 kids, who are all under 3! Yes, you heard us right. Each week she tells us all about the ups and downs of bringing up 3 children so close in age. This installment is about her little ones breaking their first teeth...
'I have to preface this week's blog with a warning that it's probably not going to be my finest piece of writing. Thanks to M hitting her latest milestone, I am not at my best. No, although she's tantalisingly close to becoming a toddler, she hasn't taken those magical first steps yet. But, at the age of 10 months and 1 week, she is the proud owner of a tooth. And I am the not so proud owner of an impressive collection of under-eye bags.
My little M is usually a great sleeper, dropping off herself in her cot, months earlier than I managed to get the twins to. Even though her sisters insist on at least half an hour of singing and laughing and shrieking before they pass out, M shuts her eyes and drifts off within minutes. She then sleeps through until 6am, when she has a bottle, and then naps until her sisters get up at 8. I'm so lucky. Well, I was. Until the tooth. For the past week, she has been waking up at 1am. When I go through, she is standing in her cot, bouncing with joy at my arrival. Usually I love it when she lights up when she sees me. I'm still just about M's favourite. I long since dropped behind Daddy in the twins' estimations. But at 1am, I don't want to be popular. I want to be asleep. Most nights, it's taken me at least two hours to get her to settle. I went four nights in a row without four hours' consecutive sleep. I don't remember feeling so bone-crunchingly exhausted since the twins were tiny and I was doing two-hourly double feeds. And back then, at least I got breaks in the daytime when they napped. The twins don't nap now. There is no relent.
On the fourth night, I cracked. Heaven only knows what my husband thought when I appeared by his side, sobbing hysterically, unable to speak and cradling his youngest daughter in my arms. Poor bloke must have got the fright of his life, but I just couldn't go on. The girls' dad was brilliant at helping with the twins from the start, helping to get us set up for nightfeeds when I was breastfeeding, then taking his share of feeds when they were on the bottle. But I fed M myself for the first eight months, so he never got used to waking to her cries. He simply sleeps through it all, blissfully unaware. But confronted with a wailing wife, he took charge, and I crawled into bed, weeping with relief...
'Muuuuummmmmyyyyyy!!! I've peed!!'
T chose that exact moment to a have a rare night-time accident. With Daddy still on M duty, I had no choice but to drag my carcass up, and change a set of pyjamas and bedclothes. Mercifully, T went straight back to sleep and once Daddy had got her down, M stayed settled until 7am. I got my four hours, and the next morning, the little tooth finally arrived. M is still not quite back to her smiley self, periodically enraged by day and restless by night, but we're getting there. Starting to believe I might actually survive this, I finally took a good look at the little white arrival and smiled. My baby is really growing up. I felt so proud of her as I looked at that perfect little tooth... Wait, what is that little lump next to it? No, not again, please... Not already... I may never be heard from again...'
Amy's other blog posts...