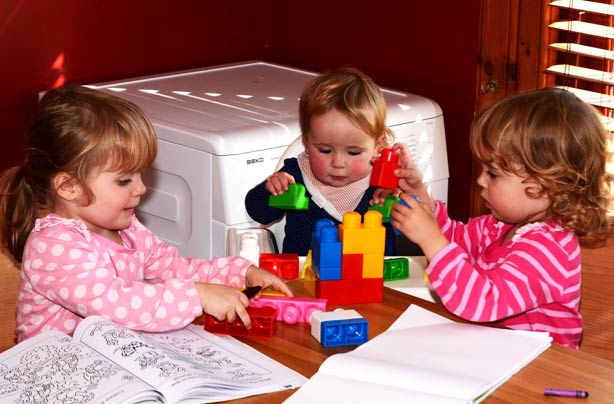 Continued below...
Amy Condon is a mum to 3 kids, who are all under 3! Yes, you heard us right. Each week she tells us all about the ups and downs of bringing up 3 children so close in age. This installment is about her realising that her little ones are growing up...
So, with the dust settling on last week's tantrums and my divas slowly turning back into sweet little children, it's been a week of firsts. For the twins, there's been the first day at playgroup and the first few nights in proper beds. M has not only taken her first steps (yes, we have a video!), she's also been saying her first words. And as for me, well, after months of yearning, I finally had my first proper time alone in about three years without an appointment or any cleaning to do... And I was utterly lost.
Before we moved back up to my hometown nine months ago, I'd only ever left the twins with anyone except their dad twice, once with their grandparents so my husband and I could have a rare night out (I cried) and once with their granny and aunty while I was having M (thought I'd cry but turned out incomprehensible pain is rather distracting). Since we've been home, the girls have all loved staying with granny or grandad, while I take others to classes or get some tidying done. But I've never left them with anyone they weren't related to. Until now. Just packing their little bags for playgroup set me off crying, but I knew the girls had to get used to playing with other kids.
And I had to get used to them not minding that I wasn't there. As it was their
first visit, however, I intended to stay for the whole session. As predicted,
as soon as we arrived, T ran straight past me onto the slide and never looked
back, while G clung to me and took it all in. After a few minutes, though, the
lure of the craft table became too much and she was off too. As I watched them
chatting to the other little boys and girls, I knew I had to do it. I had to
leave. I plastered on a smile, kissed them goodbye, assured them mummy would be back, walked out the door... and burst into tears. I'm not ashamed to admit that I wondered round crying for a full half-an-hour before heading to a local café for a coffee. A whole cup of it. Hot. And a newspaper. Which I read. I should have been in heaven. It was what I'd been craving. But all I did was watch the clock until I could practically run back to pick them up. Had they missed me like I'd missed them? Of course not. They'd had a blast. They're growing up.
Buoyed by their success, their dad and I decided to take the next step to big girl-hood, and amid much excitement, the sides came off their cot beds and the wild bouncing commenced. M was in her element too, delightedly clambering onto one bed then the other as the twins got used to their newfound freedom. OK, so bedtime lasted a good 90 minutes longer than usual, but there were no fights, no night-time mummy and daddy bed invasions, and it's yet another milestone I can't believe we didn't tackle sooner. I still can't get over how adorable their little beds look, but my pride is tinged with a little sadness too. I'm running out of babies.
M isn't even 11 months old yet, but in the past three weeks or so, she's simply stopped being a baby. Having managed a couple of wobbly steps last week, she's now moved onto proper toddling, managing six or seven steps at a time. She's a real climber too, and spends most of her time clambering onto the sofa or trying to scale the baby gate. Her attempt at saying 'book' was also just the start of a flood of speech. She now uses 'car'
'bye-bye' 'chair' and 'cat', and is adding words by the day. We're shocked by how fast she's come on. It seems having two big sisters who never shut up has its advantages! She's a proper big girl.
Heaven knows the recent spate of tantrums is enough to put anyone off parenthood, but I still can't quite shake the temptation to try for another. I know, I know, I'm crazy. And I know I won't go through with it. But it's hard to admit to myself that I'm done, that I'll never be pregnant again, never have a tiny baby, never see those first steps or hear those first words again. I spent so long wanting children, dreaming of being a mum, it's odd to not have it in my future. But there are still so many firsts out there. The first day of school, the first sleepover, the first boyfriend (though not until
they're 40, if daddy has his way)... And there will be more cups of coffee, more newspapers, more free time. Perhaps, I'll even be able to enjoy it without sneaking glances at the pictures on my phone and counting the minutes until I'm back with my girls. One day. Maybe.
Amy's other blog posts...