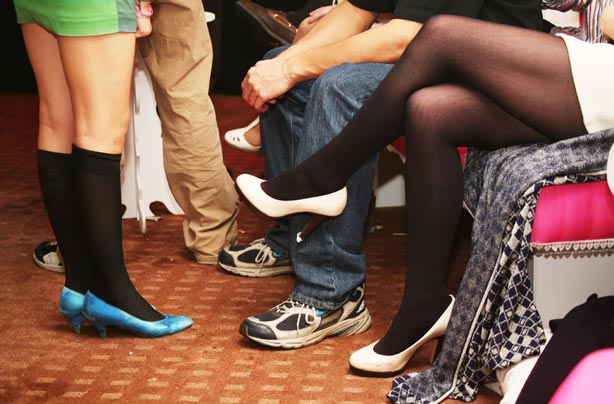 Karen is a mum of mixed sex, 15-year-old twins. And knows it. Each week she shares with us what her terrible two have been up to.

'Teenie One has her first 'proper' party to go to this weekend. Up until now birthdays have been girlie sleepovers with onesies, take away pizza and a couple of DVDs. This is different. It's a boy's party, there are about 30 invited and she's in a blind panic because she doesn't know what to wear. Will it be heels and dresses with plenty of bling, or leggings, camouflage jackets and creepers?
Last weekend we spent 3 hours in Topshop. I literally felt like I was going insane. In the end we came away with an animal print dress which, within two days of purchasing, she'd decided was completely wrong.
Now, I do understand what she's going through. I remember going to a party as a young teen wearing a tweed jumpsuit. I thought we were going to be playing twister and eating cake. Instead I was greeted by my more worldly classmates wearing black pencil skirts, lacy blouses and black chokers dancing round their handbags. They all looked like French madams while, according to them, I looked like a tree.

Things went from bad to worse when the birthday girl's Jack Russell started crawling towards me with his back legs flipped back obviously in a state of arousal. The other girls thought this was hilarious and told me to watch out otherwise he'd cock his leg on me. It was humiliating.
I think this is why, as a mother I've always made it my mission to protect my own children from the embarrassment of such fashion faux pas. This doesn't mean they're dressed from head-to-toe in designer gear, but it does mean that I understand their need to look the part, to blend in.


So the leopard print dress is back in the bag and come Saturday it looks like 'Topshop the Sequel' will be showing at a shopping centre near me. Must remember my migraine tablets.'
Do your teens agonise over what to wear? Tell us in our comments section below or on Facebook.



Continued below...




Karen's other blog posts...