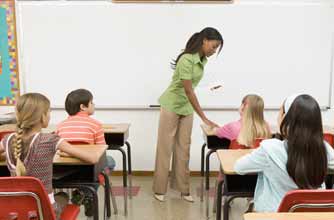 The beginning of a new school year is here and with it comes a controversial change in educational rules from the Government.

From this term, teens in England who fail to get a Grade C or above in GCSE English and maths will have to carry on taking those subjects until they are 18 or until they reach those grades and the majority of you don't agree with it.
The thinking behind it is that employers say that prospective employees lack a basic understanding of the two subjects which are key workplace skills.
Around 285,000 16-year-old school leavers don't have a C or above in both English and maths.
There are concerns, however, that for those who have special educational needs it will be impossible for them to gain a C or above, even up to the age of 18.


Continued below...
What you say...
Catherine Roberts, like most of you on our
goodtoknow Facebook page
, disagrees with the legislation: 'How cruel for students who are simply not academic enough to attain C grades or above in those subjects, and employers will still need to differentiate between applicants, so they'll look at how old they were when they got passes.'
Jenna Louise agrees: 'I've got GCSE and A-Levels all good grades, but work in a minimal wage job in a nursing home. The problem is a lack of job opportunities.'
Rhona Simpson has a dyslexic son and says: 'He could spend an extra 20 years at school and still wouldn't achieve a C. That doesn't mean he hasn't excelled in other subjects.'
What do you think? Will this help teens get jobs or is it a simplistic solution to a bigger problem? Leave us a comment below to let us know or join the debate on our Facebook page.
Where to next?
- All you need to know about A-level and GCSE retakes
- The parents' guide to exams
- 10 dos for parents of teens