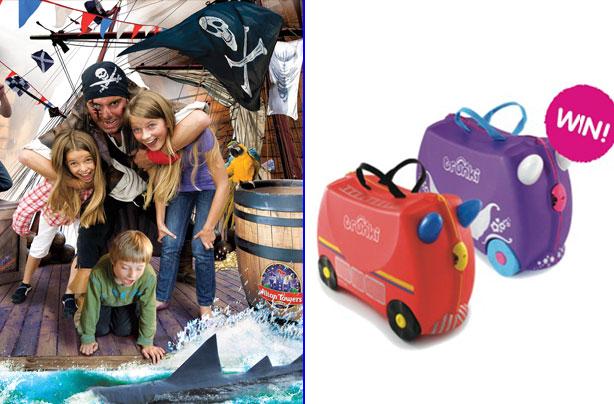 Continued below...
When I was 7, I really really wanted a Girl's World. For those of you who don't know, that's basically a giant doll's head with hair that you could make longer and hair and make-up accessories with which you could spend hours painting her face and decorating her hair. When I opened that parcel under the Christmas tree from my Granddad and found that inside, I was probably the happiest child in the land. And, somewhere, buried with 1,000 other Christmas pics, is the photo to prove it.
That look on a child's face when they've opened the present of their dreams is simply priceless. And we bet that many of you have got photos of your kids staring in delight at their most-wanted Christmas gift. We would love to see them to bring a warm-Christmassy spirit into our not-very-Christmassy-yet office.
How to enter

All you have to do is send us a pic of your child opening their best present on a previous Christmas, either to our Facebook page, or to our email: goodtoknow@ipcmedia.com, along with your name and contact details and subject line: Happy Christmas faces, or tweet us at #happychristmasfaces The winning photo will be the one that captures the theme of 'dream
present delight' the best. The competition will be judged by the editor
and family channel editor.
The prize
One winner will win an amazing theme weekend at the Alton Towers resort this winter, PLUS family tickets to the theme park when the park reopens in March 2014, PLUS 2 fun and practical Trunki suitcases and 2 Trunki Snoozihedz - snuggly characters that turn into pillows and fleecy blankets.
Closing date: Midnight, December 17 2013.

We'll try and put as many of your pics as we can into a gallery, so don't forget to check back here for the link to our happy Christmas faces gallery to see if yours is there.
For terms and conditions, please see below.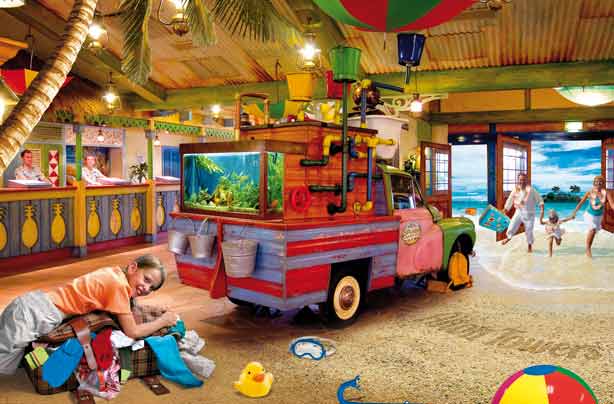 Alton Towers
Escape to the Alton Towers Resort this winter and enjoy a range of fabulous fun themed weekends that the whole family will love. You could win a weekend break for four at a themed weekend of your choice to brighten up those winter days. With plenty of events to choose from including the Alton Towers Resort's own Caribbean weekend or the swashbuckling Pirate weekends, the short breaks are guaranteed to excite the whole family this winter!

If you fancy something a bit more energetic, why not dance the weekend away with an array of workshops at the Dance Getaway.

After an action-packed day enjoying everything on offer at your amazing theme weekend, head over for a splashtastic time at the Alton Towers Waterpark and relax in its uniquely-themed hotels with some amazing evening entertainment.

The lucky winner will also receive a family pass to the Alton Towers Theme Park during 2014 to experience endless family fun and adrenalin pumping rollercoasters. Enjoy mind-blowing fantastic rides and attractions offering unlimited fun for kids of all ages, families and thrill-seekers.

This prize is valid for a family of four or four adults to attend a theme weekend between November 2013 and March 2014 at the Alton Towers Resort. Prize includes one night standard accommodation on a bed and breakfast basis and also includes evening meals, plus entrance to the Alton Towers Waterpark. There is no cash alternative and prize is subject to availability. Entrance to the Alton Towers Theme Park, Spa and Extraordinary Golf is not included in the prize and all other chargeable items such as movies and phone calls must be paid for. Prize also excludes the Dancing with Stars weekend. Full terms at altontowers.com
Pirate weekends: 24, 25 January; 7, 8 February; 28 Feb, 1 March
Caribbean weekends: 31 Jan, 1 Feb; 7,8 March
Winter breaks: Sunday to Thursday during Dec, Jan, Feb, March
The Dance Getaway: 8-10 February
The family pass consists of 2 adults and 2 children, or 4 adults and is valid for any one day durong 22n March to the 16th October 2014, excluding concerts and special events. The pass is for entry into the theme park only and does not include food or drink. Tickets are not transferable.

Trunki
Trunki Freddie the Fire Engine and Penelope the Princess Carriage RRP £37.99
Trunki was created to beat the boredom so often suffered by travelling tots. Designed to be used as hand luggage, kids can pack Trunki with all their favourite belongings whilst parents keep them in tow. It's made from the same lightweight, durable plastic as adult cases and has a generous 18 litre capacity for toys, games and spare clothes. Trunki comes with its own passport, which you can register online and fill with fun, travel-friendly activities for the journey.

SnooziHedz Felix the Fox and Ollie the Owl RRP £20
SnooziHedz is the ultimate travel companion. The cute character unzips to reveal a comfy inflatable pillow and cozy fleece blanket that connect together with the unique Trunki Grip. This stops the blanket sliding off so your little one stays tucked up toasty.
Terms and conditions
· Competition open to UK residents only.
· No cash equivalent.
· Closing date midnight, December 17 2013.
· No purchase necessary. Entrants must be aged 18 or over.
· Competition is not open to employees of Trunki.
IPC Media
The 1 winning photo will be judged by goodtoknow's editor and family channel editor and their decision is final.
The winner will receive one theme weekend package at Alton Towers, terms as specified, plus family tickets to the theme park at Alton Towers, plus two Trunki suitcases, plus 2 Trunki Snoozihedz.
There is only one entry per person allowed.
Competition details form part of these terms and conditions.
Entry is open to residents of the UK, Channel Islands, Isle of Man and
Republic of Ireland except employees (and their families) of IPC Media,
its printers and agents, the suppliers of the prizes and any other
companies associated with the competitions.
The winner(s) must be aged 18 or over.
The sponsors are Alton Towers and Trunki.
The closing date is midnight, December 17.
The sponsors will endeavour to send the prizes to the winners within 28 days of being notified of the winners' details.
Proof of identity and age may be required.
Use of a false name or address will result in disqualification.
All entries must be made directly by the person entering the competition.
Photos must belong to the user that submits the photo and all copyright will remain with them.
Ensure you have the permission of the child's parent or guardian if you are
submitting a picture of a child who doesn't belong to you.
All entries will be posted onto goodtoknow.co.uk as part of their gallery
content but will not be used for any other purpose other than for
creation and promotion of these galleries as a result of the
competition.
In submitting your photo of your child you are giving permission for goodtoknow.co.uk to post this photograph in the
gallery section.
Entries made online using methods generated by a script, macro or the use of automated devices will be void.
No responsibility can be accepted for entries lost, delayed or corrupted, or due to computer error in transit.
The prizes are as stated, are not transferable to another individual and no cash or other alternatives will be offered.
The winner(s) is(are) responsible for expenses and arrangements not
specifically included in the prizes, including any necessary travel
documents, passports and visas.
Prizes are subject to availability and the prize suppliers' terms and conditions.
The promoters reserve the right to amend or alter the terms of
competitions and reject entries from entrants not entering into the
spirit of the competition.
In the event of a prize being unavailable, the promoter reserves the right to offer an alternative
prize of equal or greater value.
The winner(s) agree(s) to the use of their name, photograph and disclosure of county of residence and
will co-operate with any other reasonable requests by IPC relating to
any post-winning publicity.
The winner(s) will be judged by members of the goodtoknow team from all correct entries received by the
closing date stated within the promotional material. The judges
decisions are final.
Reasonable efforts will be made to contact the winner(s). If the winner(s) cannot be contacted, or are unable to
comply with these terms and conditions, the Promoter reserves the right
to offer the prize to the next eligible entrant drawn at random.
Failure to respond and/or provide an address for delivery, or failure to meet
the eligibility requirements may result in forfeiture of the prize.
Where applicable, the decision of the judges is final based on the criteria
set out in the promotion and no correspondence will be entered into over
this decision.
Competitions may be modified or withdrawn at any time.
The providers of the prizes are specified within the promotional material.
The Promoter is IPC Media Limited, Blue Fin Building, 110 Southwark Street, London SE1 0SU.
In the event of a discrepancy between these standard terms and conditions
and the details in the promotional material, the details of the
promotional material shall prevail.
A list of winners will be available by writing into the publisher of the magazine or website at
the Promoter's address no earlier than 6 weeks (unless otherwise stated)
after the close of the competition. Only the surname and county of the
winners will be disclosed.