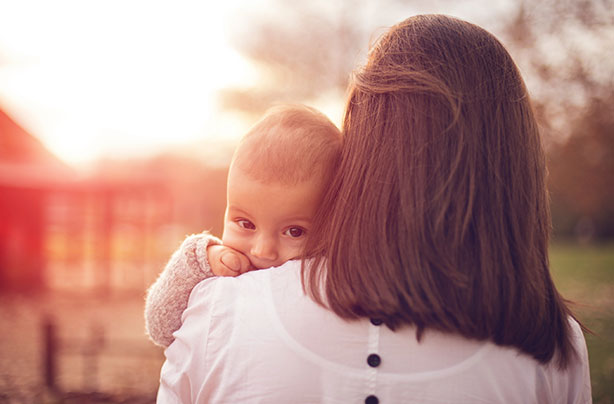 There are many reasons why women can become depressed after giving birth. These include, but are not exclusively, traumatic birth, breastfeeding difficulties and problems bonding.
Some women are unable to put their finger on exactly what has caused them to have
postnatal depression
at all. What many women do share, however, is a feeling of isolation and the certainty that no one feels the way they do.
Butterflies PND Support Group is putting together a book of women's experiences of PND (Women's Voices of PND), so they can share their stories and support other sufferers. Here are quotes from some of those women's stories, sharing their 'triggers' and the help they received.
'I lied about feeling suicidal and about how I wasn't coping. I was too embarrassed to be open about how I was feeling. My mum and husband noticed how I was and encouraged me to go to the doctor's. I don't remember what age my daughter was when I finally went and asked for help, but I started taking anti-depressants. I wasn't, however, offered any therapies alongside the medication, which I think is something that happens more often than not up and down the country. I believe that although medication can help lift the fog, there needs to be better support offered alongside to help with recovery. Mums are so often just left to fend for themselves after being given the medication, so this leads to feeling isolated and alone, which is one of the worse things for a mother with postnatal depression to feel.'
Rose Wren
Read Rose's full story

'Once home I struggled to feed [my baby]. I didn't know how to. There were no antenatal classes for me this time. After all, I had done it all before, right? The little voice telling me that I was rubbish was at this point whispering in my ear 'you can't even feed her'. My husband begged me to go to the GP. Medication was my saviour, but it's not a magic cure-all, it just helps me to keep the voice at bay.'
YC
'Our son, Oscar, was born by Caesarean section, which is not what I wanted and to this day, I still don't feel I have given birth to my own child. Little Bear (Oscar's nickname) was taken into the special care baby unit on the first night of his life because his sugar levels were low - a result of my gestational diabetes and having to use insulin. When I held Oscar for the first time, it didn't feel how I imagined it would feel and I was so envious of the other mums on the ward because I could see how in love they were with their new bundles of joy... but not me. I was petrified.'
Clare
'My days consisted of sobbing, of withdrawing from the world, of isolation that no one understands. I just wanted to die, I couldn't cope with this pain, this grief. There was light at the end of the tunnel which came in the way of medication, support groups, learning to trust and talk.'
Claire Louise Jones
'Rose was really struggling to bond with our daughter and constantly said she didn't feel like she knew her. It was this that concerned me. I had noticed Rose was very frail and down not being able to bond with her daughter and at the time I was suffering from depression so I asked her to go to the doctors and talk to them about depression.
Stephen
Read Stephen's full story
'My pregnancy went by smoothly and baby grew well and was born on the 15th (his due date). After an induced 5-hour labour, I suffered a fair bit of damage due to his position and had bad tears, which needed a lot of stitches. I was in a lot of pain and constantly crying. I was not terribly interested in my baby and he refused to breastfeed and staff were not very helpful. I felt very guilty about not being able to breastfeed.'
Whitney
'Labour was awful. I was rushed to theatre and had an emergency C-section. It was like an out-of-body experience. The next thing I knew I was being handed a baby boy to cuddle. My husband had a tear in his eye. I felt nothing. Maybe that overwhelming love everyone talks about would come after a few days' rest. But no, it never did, not for 14 months. The tears couldn't stop. There's a lot I don't remember, but sewing, as well as counselling, truly saved me.'
Kim Briggs
'There is a check list for those likely to suffer from postnatal depression, I ticked nearly all of the boxes, but for some reason it was still totally unexpected. After all, I had always wanted children, this was a dream come true, it was going to be amazing. It wasn't. It still isn't. It's hard.'
Anonymous
'P&V were a result of infertility treatment after four hard long years of being desperate for a baby. When people used to look at me and say, 'Oh how will you manage?', I used to reply 'I've been so desperate for them, I can't complain'. And complain I really didn't. Even though I had an unpleasant C-section (with massive blood loss), poor recovery, recurrent internal and external infections. Even when it was really hard to feed with cracked nipples, blisters, constant feeding of two babies. The tears were there from morning to night. I started getting to the point I couldn't get out of bed in the morning, I couldn't get dressed, I couldn't walk up the stairs, I couldn't get in the car, I couldn't get out of the car, I couldn't do anything. I would just lie there. I finally decided to go and see the GP. He was very clear that I was in absolute need for medication. My main disappointment throughout the whole experience was that of lack of support from my husband and family. My road to recovery was mainly through medication.'
Tricia Murray
Read Tricia's full story
'As the pregnancy developed it was a lonely time and I felt so detached from the world of motherhood and parenthood. Everyone was getting excited and I was filled with dread. I was let out of hospital 2 days after my C-section and 2 days after that the baby was admitted back into hospital. I was not producing milk and he had lost 12% of his body weight. I was failing my baby in all ways.'
Louise Witwit
'A traumatic labour ensued. My carefully-constructed birth plan went out of the window. I was haemorrhaging and baby was distressed so I had an emergency C-section and at 11.14am Bella was born. I struggled with breast-feeding so had to have nurses manually express me to feed Bella. I produced very little, but nurses said it would soon right itself. On our long journey home, Bella started shaking and her breathing was erratic. We pulled over and I fed her formula which she gulped down. I felt awful, I'd been starving my baby. Breastfeeding was a struggle - my nipples were 'traumatised' as documented by my midwife. I remember sitting in my dressing gown with wet hair, sobbing because my baby was so unwell and I was still struggling to feed her, even on bottles. I spent many evenings in the bathroom crying and I remember one particular evening M saying, 'you just need to stop all this crying'. The doctor put me on medication and advised I should seek counselling.'
Vicki
'I was brought in one week overdue and induced, but due to complications I had an emergency C-section. A baby boy was born. I saw him for a split second and it wasn't until at least 45 minutes later I held him. It was overwhelming. I was crying holding him, but couldn't believe he was here safe and sound. My husband was ecstatic, but I can't say I felt like that. I just felt exhausted, tired and kind of out of it a bit. I made a decision after the C-section that I would not breastfeed and both my husband and I were happy with this. I saw my GP and commenced antidepressants and psychotherapy. I arranged these and knew I needed help.'
Lynn
'I remember even then feeling a sort of detachment from my baby. It felt as though it was someone else giving birth and I was just watching. Thankfully, Sean arrived, a little jaundiced, but generally well and a healthy 8lbs 4oz. As he was handed to me I looked at him, waiting to feel the rush of love I'd heard so many people tell me about, the one every Mother feels when she looks at her baby for the first time. But it just wasn't there. I felt nothing. And this didn't change as the days went on.'
Juliette O'Donnell
Read Juliette's full story
Continued below...
'18 years ago on 1st April 1996, I gave birth to my wonderful son Adam - subsequently I started to feel unwell and couldn't cope with looking after him. I was diagnosed with the worst type of PND - Puerperal Psychosis - which required hospitalisation in a mental ward. I was separated from my lovely newborn son for two months. With the right medication and lots of family support, I overcame this debilitating disease and went on to have my beautiful daughter Lucy, only 20 months later with no problems at all. No one can prepare you for motherhood and it is a complete lottery as to whether PND will affect you. Anyone suffering PND should not be ashamed of their condition and ASK FOR HELP. My midwife was wonderful as I recognised very early on that I was not feeling as I should. We will be celebrating Adam's 18th birthday in a few weeks' time - he has grown into a very kind, caring, funny young man and I am very proud of him.'
Paula Watkins