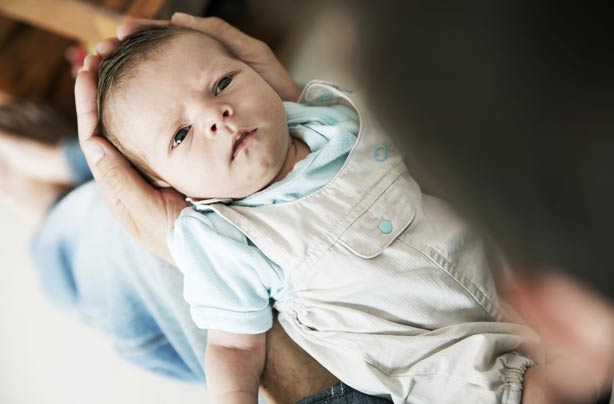 Continued below...
Adapting to life with a baby while supporting your partner through a tiring and emotional time is tough for any new dad. And even harder when that person is suffering from postnatal depression. Read one man's experience of PND.
We caught up with Stephen, husband to 25-year-old Rosey, who's suffered with postnatal depression at various stages of her three pregnancies. Here, Stephen tells us about the signs that things weren't quite right and his advice to anyone who thinks their partner might have PND.
goodtoknow: Obviously when you have your first baby, you don't know what to expect. How were the first few weeks for you?
Stephen: The first few weeks were some what unreal. Having another life that was so fragile to look after was scary. But the joy it brought to us was just bliss.

How was Rosey during this time?
To begin with Rose was happy and humble at the new addition to our family, but at the same struggled to bond with our daughter.

Did you think that Rosey was struggling because of the breastfeeding problems, or were you worried it was something more?
Our daughter was a very hungry baby and Rose was struggling to keep up. At first I thought it was just the amount our daughter was feeding that was effecting Rose.

When did you start to think that Rosey wasn't coping?
When Rose went to bottles during the night. It gave her a rest from constantly being up.

What was she doing/saying that concerned you?
Rose was really struggling to bond with our daughter and constantly said she didn't feel like she knew her. It was this that concerned me.

Were you worried about her?
Yes very, she struggled a lot at night and I was more than happy to help out at night.

How did you feel?
I felt ok, I was a father for the first time - though getting used to the nights was the hardest part.

You, along with her mum, persuaded her to go to the doctor's. How did you bring up the subject with her and what did you say to get her to go?
I had noticed Rose was very frail and down not being able to bond with her daughter and at the time I was suffering from depression so I asked her to go to the doctors and talk to them about depression.

Had you heard of postnatal depression previously?
No I hadn't. I only thought it was depression that Rose was struggling with.

What changes, if any, did you notice after she was prescribed anti-depressants?
Rose was able to do more. The smile had come back to her after being on anti-depressants for a while.

When your other children came along, were you able to spot the signs of PND yourself?
I could see signs of depression but I was still unaware of PND. It was a similar pattern she had with our first.

What advice would you give to the partner of someone who thinks their other half has PND?
I think the best advice I could give is, if your partner shows signs of struggling day to day and is finding taking to being a parent hard then talk to them about going to the doctors and encouraging them to talk about PND. It could make all the difference to the new parents outlook on being a mum. Life is a blessing when a baby comes along and both parents deserve to enjoy their new bundle of joy.
Where to next?
Postnatal depression - get the help you need
'My daughter's first year passed in a blur of tears and anger' PND: my story
'I thought about driving into the central reservation on the Spaghetti Junction'
Celebrities who've battled postnatal depression
PND: a reminder that you WILL get better - print off and keep!
Breastfeeding with PND - is it right for you?
PND - the advice I'd give myself
The hashtag PND lifelines on Twitter
Help us in our campaign to help mums fighting PND
The Edinburgh Test - do I have PND?