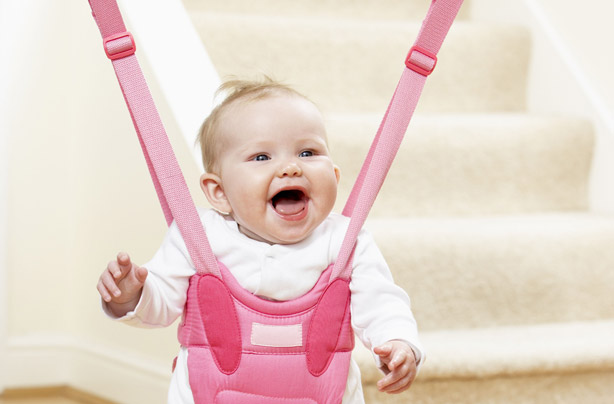 All new parents know that the list of products needed before the arrival of a new baby is endless, not to mention expensive - that's why you're best to opt for the baby essentials and try not to get tempted by everything that looks 'cute' and 'stylish'.
And the amount of things that end up being listed on eBay soon afterwards as 'barely used' or 'in brand new condition' can be a rather annoying waste of time and hard-earned money.
However, a recent survey released by consumer watchdog Which? has drawn up a 'don't buy list', revealing the baby items that parents found the least useful, making you a saving of up to £275.
The survey asked 2,000 parents with kids aged five and under to vote for the baby items they had found the most and least useful (excluding necessity products like car seats and cots).
And the results are pretty interesting, it seems that at the forefront of new parents' minds was safety, with stair gates and audio baby monitors being voted as two of the top most useful products. Not so popular however were door baby bouncers and surprisingly, the manual breast pump. You can see the full list of least useful products below.
Top ten least useful products, as voted by parents
1. Door baby bouncer
Ok, so your little one will look ridiculously cute bouncing around in the doorway but this product really isn't necessary. A chair that has a springy mechanism will work just as well – they can bounce, they can sleep, they can be fed in the chair and you can rock them and play with them in it too. Much better than a door bouncer!
2. Baby washing bowls
There's really no need for a baby washing bowl. A baby bath is a much better buy – you can pop it into your bath, shower cubicle and or even on the floor in the middle of your bathroom. As long as its warm in the room and you're there to support your little one, bathing is the best form of cleaning. And if you just want to give your baby a refresh, baby wipes or a flannel work just as well!
3. Manual breast pump
Do you really want to spend hours pumping away when you can opt for an electric breast pump which does all the hard work for you. Of course the easiest option is feeding your little one directly from your breast or if you're using formula, you won't have to consider a breast pump at all.
4. Baby hammock
Another item that you really don't need to buy. We know your tot will look so cute swinging back and forth in a mini hammock – it's certainly Instagram worthy but its really not needed. Hammocks take up a lot of room along with hammock and stand so aren't great if you're short on space.
5. Fabric sling
According to Which?'s recent survey, slings are a no no. We'd opt for a carrier ourselves and they're easier to use, more supportive on your back and your partner can help with the carrying, as well as bonding with your little one.
6. Nappy stacker
A nappy stacker is attached to the side of your baby's crib or changing table and then can just reach in and pull out a nappy every time you need one. They may look more appealing than a box of Pampers sitting on the side but that's all it is really.
7. Bumbo seat
A Bumbo seat looks like a highchair but is on the ground so you can feed your little one at their level. This product has got backache written all over it! You're best to wait until your baby can sit up by themselves and opt for a highchair instead so then you can all have dinner around the table together.
8. Cot mobile
Your little one will love watching their cot mobile spin around, play songs or make noises but its not a necessary buy. Their crib or cot is for sleeping and if that's all you use it for you, you won't need a mobile to keep them entertained.
9. Swaddling blanket
If you want to swaddle your tot, a soft blanket should do the trick. There's no need to buy a specific swaddling blanket or body shaped blanket with zips and fastenings. Swaddling is such an old aged practice, they never had gadgets like us back in the day so we don't need them now!
10. Nappy disposal bin
Why would you want yet another bin in your house? You've got the main bin, the recycling bin, maybe even a compost bin for leftovers and a bathroom bin too – that's enough bins to empty before bin day so don't make it another one!
We asked six new mums to tell us about
the baby products they loved and loathed
and the results were quite varied. Back-button babygrows were mentioned by a couple of our mums, plus a swaddling blanket as mentioned above.
Continued below...
Which products have you found most/least useful as a mum? We'd love to know. Leave us a comment in the box below.