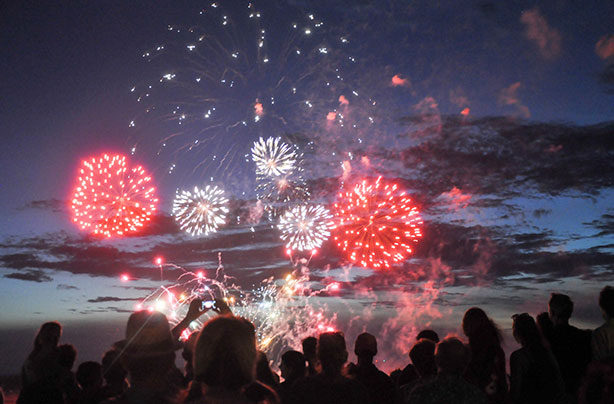 Pop on your ear muffs and get your glow sticks at the ready - it's time to visit the best firework displays the Midlands has to offer for 2016!
From watching brave individuals walk on flaming hot coals to riding theme park rides we've rounded up the cream of the firework crop in The Midlands this year. Choose from spectacular displays in Nottingham to pretty displays in The Midlands Safari Park. Whichever night you choose from this lovely bunch we're sure you'll have a night to remember.
Fireworks Nottingham 2016
Our pick of the best fireworks Nottingham has to offer, this 2016.
Erewash fireworks display, Nottingham
The annual Erewash bonfire and fireworks event attracts thousands of visitors each year, as one of the largest community fireworks night events in the area. The event will also host an illuminated lantern procession. You can pick up tickets from West Park Leisure Centre, Long Eaton Hall and Ilkeston Town Hall.
When?
Saturday 5th November, gates at 6pm-10pm
Where?
West Park, Long Eaton
How much?
TBC
More info:
erewash.gov.uk
Bonfire night at The Forest, Nottingham
Make your fireworks night go off with a bang by attending Nottingham's best free fireworks festival. This family friendly evening will include a small and quiet display for young children, a bonfire and a grand firework display for everyone to enjoy.
When?
Saturday 5th November, gates from 5.30pm, main display from 9pm
Where?
Forest recreation Ground, Gregory Boulevard, NG7 6AQ
How much?
Free
More info:
nottinghamcity.gov.uk
My Sight Nottinghamshire charity fire walk and fireworks spectacular
If you're looking for something a bit different this Guy Fawkes night then why not dare yourself to tread hot coals in aid of charity at this exciting evening, they're looking for volunteers! If you'd rather leave the burnt toes to someone else then you'll still be treated to a wonderful fireworks display, against the backdrop of Nottingham Castle.
When?
Friday 4th November
Where?
Nottingham Caste, NG1 6EL
How much?
Adults £10, children £4
More info:
experiencenottinghamshire.com
Fireworks Birmingham 2016
Our favourite firework displays in Birmingham for 2016.
Bonfire and Fireworks display at Kenilworth Castle, Kenilworth
Be amazed by the beautiful fireworks and towering bonfire at this display in the stunning grounds of Kenilworth Castle. Buy tickets from the Holiday Inn Kenilworth to guarantee entry! Why not buy a ticket for the bonfire buffet too, for £10.50 you'll get plenty of seasonal treats.
When?
Friday 7 November
Where?
Kenilworth Castle, Castle Green, Kenilworth, CV8 1NE
How much?
TBC
More info:
kenilworthroundtable.com
Firework Festival 2015, West Midland Safari Park


Spectacular fireworks and bonfire
Late-night rides, safari illuminations and themed music to bring the party alive! Plus Reptile World, Penguin Cove, Creepy Crawlies, a sea lion show and a delicious range of refreshments including a hog roast, bar, and disco in Tree Tops pavilion. This event has proven so popular in the past that it will now be held over two nights, so you'll get plenty of opportunity to see some fireworks.
When?
November 7th and 8th, from 2pm Saturday and 1pm Sunday, check website for details
Where?
West Midland Safari Park, Bewdley, Worcestershire, DY12 1LF
How much?
£12.99
More info:
wmsp.co.uk

Birmingham's Firework Spectacular
Grab your coat, scarf and hat and head to Pype Hayes Park to experience the magic of the fireworks, which this year have a Disney theme. They're also promising a surprise finale to the display. Wonder what it could be? There's a funfair and Juggling Inferno will be there to entertain the crowds.
When?
Thursday 5th November, times tbc
Where?
Pype Hayes Park, Chester Road, Erdington, West Midlands
How much?
Free
More info:
Birmingham.gov.uk

Leicester, Warwick and Alton Towers fireworks 2016
Here's our round up of the very best evenings full of fun and fireworks!
Abbey Park Bonfire & Firework Display, Leicester
Abbey Park Bonfire and Fireworks Display is Leicester's biggest display, attracting over 15,000 visitors. In addition to the main fireworks there's also a children's firework display which is quieter and especially themed for a younger audience. Gem 106 will be hosting a great stage programme including live music. Plus there's also a children's funfair, food stalls and, of course, the bonfire.
When?
Saturday 7 November, gates open 5pm, fireworks at 8pm
Where?
Abbey Park Rd, Leicester LE4 5AQ
How much?
Adults £6, concessions £4
More info:
visitleicester.info
Warwick Town Bonfire and Fireworks, Warwick Racecourse
Soak up the autumnal atmosphere at this exciting firework display. This year there will be a children's fun area as well as a bouncy castle, hot refreshments and free parking. All proceeds are to go to local charities, so not only will you get a fun evening out, you'll also be getting the opportunity to give something back to local causes.
When?
Saturday 7 November, gates open 5pm, fireworks at 6.30pm
Where?
Hampton St Warwick CV34 6HN
How much?
Adults £6, Under 12s £2, under 2s free.
More info:
warwicktownbonfire.org.uk
Theme park and fireworks, Alton Towers
Treat the family to a whole day and night of fun by taking them to Alton Towers to enjoy fireworks night. It's not cheap but you do get entry to all the rides after dark, entertainment and a dazzling display of fireworks.
When?
6th, 7th and 8th of September, running throughout the day and into the evening
Where?
Alton Towers, ST10 4DB
How much?
Adults from £37.80 and children from £34.20
More info:
altontowers.com
Continued below...
Looking for fireworks in London, Scotland or Wales? Find them here!