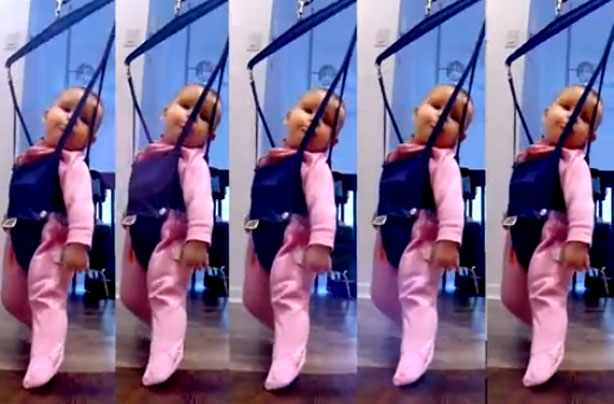 We all know that babies love to bounce - but we don't remember our kids pulling shapes anywhere near as stylish as this little lady!
Kali's parents posted this hilarious clip on Youtube after realising that they couldn't help but notice a certain similarity between her eager bounces and the Lord of the Dance...
Mum Stacey Ann explains: 'Our daughter has a lot of favorite games but she loves the Jolly Jumper and actually crawls to it and points at it and laughs when she wants to go for a ride.'
'One day I had to go out for an hour or so and I left my hubby home alone with our princess and he thought it would be fun to film her having a good time in the Jolly Jumper.'
'When it was nap time he looked at what he had shot and thought that she had pretty excellent dance moves and decided to edit the video and create Kali of the Dance. I laughed so freakin hard when I saw it almost peed my pants.'
Continued below...
The bio from the video also reveals that Kali's middle name is Jazz, so it's not surprising she's so light on her feet! We think she's going to grow up to be a proper mover and shaker - watch out Michael Flatley, you might have some competition on the horizon...