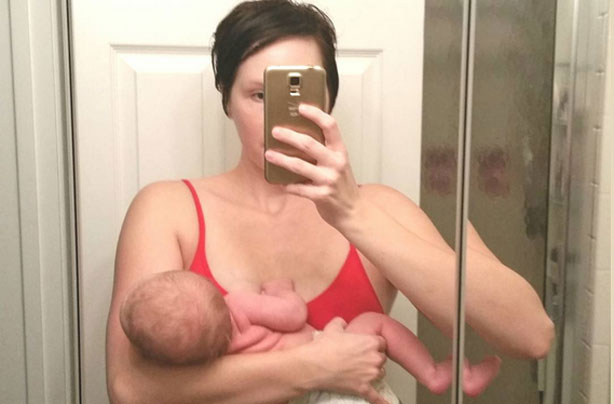 Don't you just think it's about time that mums were given a bit of a break?
We mean, as if growing, carrying and nourishing a baby in your body for nine months wasn't enough - not forgetting the actual giving birth part too, of course (no biggie) - there's then so much pressure for us to snap back into shape afterwards.
And that's why we're hailing these women, who are all rocking a mum tum and proving that it's pretty darn sexy, too.
Jessica Belnap
New mum Jessica took to Instagram to challenge the stigma that remains about post-baby bodies. Sharing a picture of herself and five-week-old daughter Ivy, she wrote:
'You know what they say, "be the change you want to see in the world" and "be brave". Well this is me being both because for some reason, I am so nervous to post this picture.
'So why am I? Because I've noticed in my life that when I surround myself with body positive messages, I begin to be kinder with myself. So maybe if it has helped me, it will help others.
'This is my very real and very amazing body 5 weeks postpartum. I have new stretch marks and a belly pouch and I choose to love and accept it. This body grew a miracle baby and now my body is feeding this miracle perfectly. Everyday is a battle to choose to be kind to myself because there are worse characteristics a human can have, in life, than a jiggly tummy and extra baby weight. #effyourbeautystandards #takebackpostpartum #birthwithoutfear'
https://www.instagram.com/p/-r3bSSI5PI/?taken-by=jessbels
Jessica's picture was quickly reposted to the 'effyourbeautystandards' Instagram, where it garnered around 3000 likes and hundreds of positive comments in a matter of hours.
'You are a beautiful woman and mother, and you have a beautiful baby! Congratulations,' one follower wrote, whilst another added 'You look lovely... and you made a person. Win!!!'
And Jessica's not the only one that's been celebrating her gorgeous post-partum tum...
Robyn Lawley
Australian model Robyn Lawley shared an honest photo of her body after giving birth to her first child - in response to an article claiming she'd considered an abortion to avoid getting stretch marks.
Robyn is one of Australia's best-known plus-size models - yes, this slim young thing is what is constitutes 'plus size' these days - and found herself the target of hundreds of hateful comments after the article, published during her pregnancy, said Robyn didn't want pregnancy to disfigure her body - a claim Robyn says was hugely misquoted.
In a response to the 'heartless' article, the new mum decided to set the record straight by posting this photo to her 93,000 Facebook fans with the following message:
'Almost a year ago, an interview from a very honest maybe too honest conversation with a friend was manipulated and taken apart so heartlessly by a uk publication gossip page.
'I was shocked not only because that is not what I said, not to mention i already had a tonne of stretch marks like 90% of the world, but to read that entire article and be already heavily pregnant, that's their angle?
'As for my stretch marks I knew they were coming and as they're fading into white ( like all my others) I thought I might capture them. Because they are some bad ass #tigerstripes smile emoticon. And I earned them.
'We put an unbelievable amount of ridiculous time consuming pressure on women to care so much about their flaws they forget how truly beautiful they (you) are.'
You go, Robyn!
Josie Bhosale
Meet Josie, a nutritionist and blogger who lives in New Zealand, who made the headlines with these pictures of her post-baby body.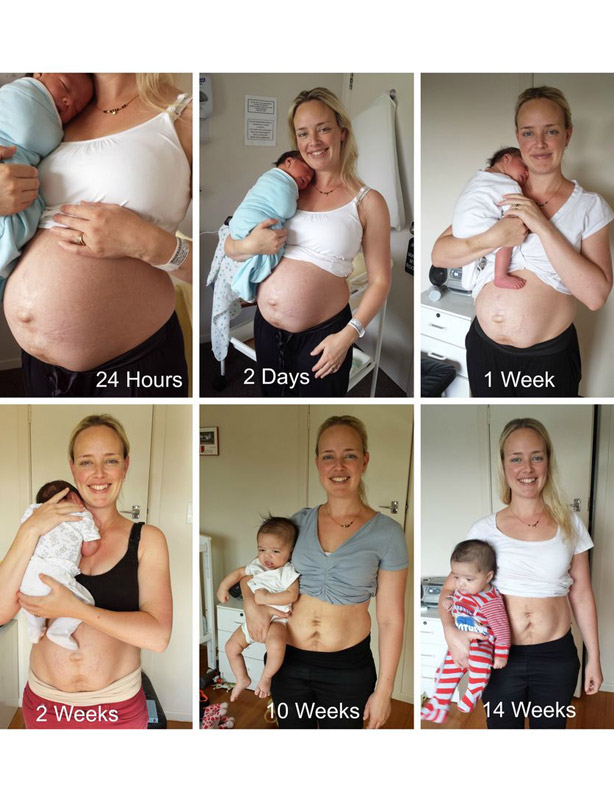 Image:
Josie Bhosale
After the birth of her second child, she decided to document how her
body changed after giving birth, and share the results on her blog. The
post, titled 'My real postpartum body' shows how her tummy changes
between 24 hours to 14 weeks after giving birth to her little one (who
also makes an appearance in the pics, too!).
In her blog Josie writes:
'I am a mother. I am tired, broken and sore. I have lumps, bumps, marks and jiggly bits.
'You too are a mother. You are also tired, exhausted, broken, sore, have lumps, bumps, marks and jiggly bits.
Continued below...
'You too live in a world which judges you on how you look. Not how you feel. Not who you really are and what you have sacrificed...and continue to sacrifice.
'You are beautiful, you are amazing, you are a mother.'
Josie, we think you're amazing!
Kimberley Henderson
At first glance we thought this mum is mad to think that she has any kind of a 'mum tum', because she's so young and slim. At 27, she's had four kids. Sick of being complimented on how she'd retained such a 'perfect' body after having her children, she decided to bite the bullet and prove that she has her imperfections just like every other mum.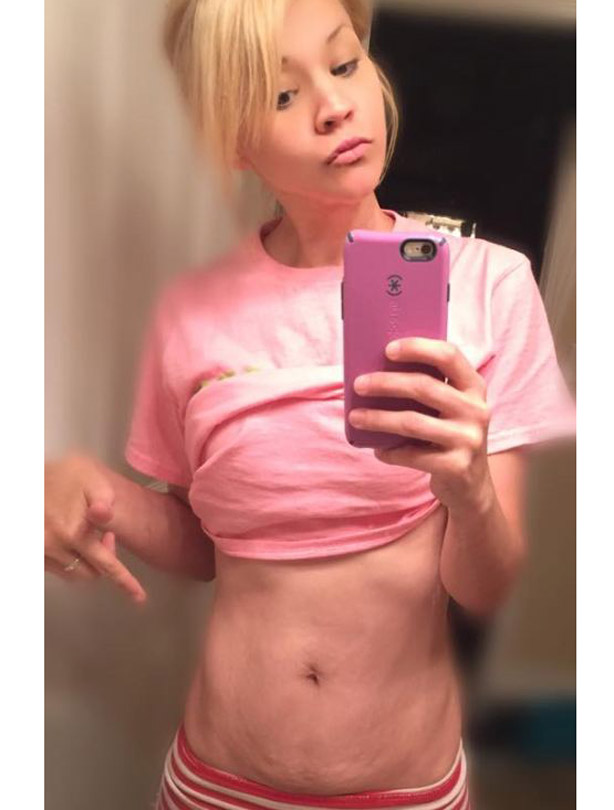 Images: Facebook/KimberlyHendersonMusic
Her post, which has had over 12,000 shares, explained that even though she has her insecurities, 'everyday I get to wake up to 4 beautiful smiling faces and I'm reminded that they are worth this flabby belly and they are worth these stretch marks.'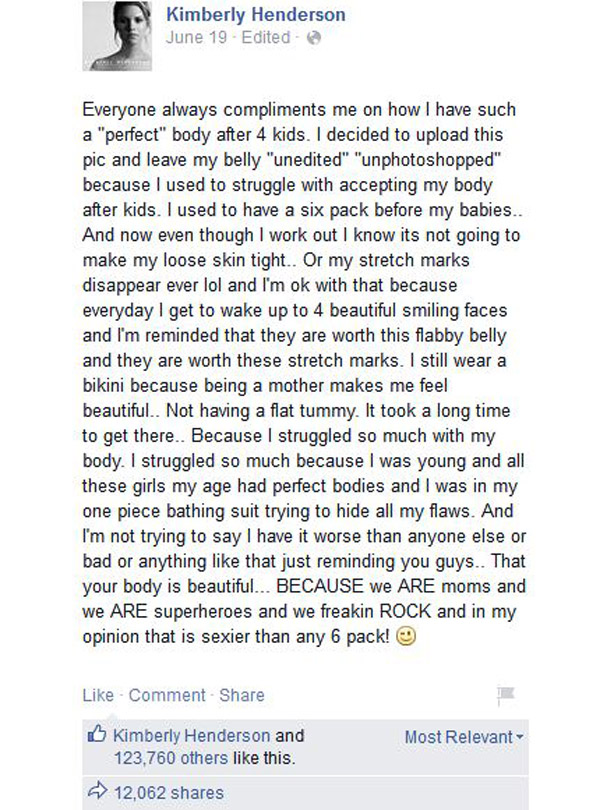 Image: Facebook/KimberlyHendersonMusic
The mum, who's an American singer from South Carolina, has recieved praise from other mums all over the world.
One wrote: 'I wanna like this a million times. I have 3 biological kiddos and they of course took a toll on my body. I have struggled for years to finally come to terms with my stretch marks and loose skin. It's taken me forever to love my body again (and even now I have my days lol).'
Another said: 'I have a big wrinkly flap of skin under my shirt hanging over my pants! My boys play in it like its playdough and weirdly enough that's the reason I like it, it makes them happy!'
Hilaria Baldwin

Just two days after giving birth, Hilaria Baldwin, wife to actor Alec Baldwin, posted these beautiful pictures of her post-baby body, and we just just had to share them with you.
She looks simply I.N.C.R.E.D.I.B.L.E. (It helped that she looked incredible before, but still, she looks incredible all the same).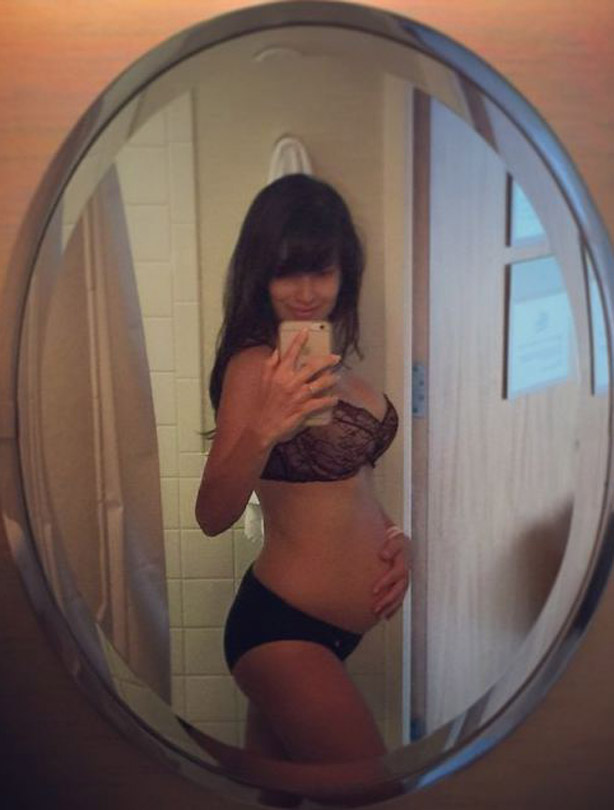 Image: Facebook/hilariabaldwin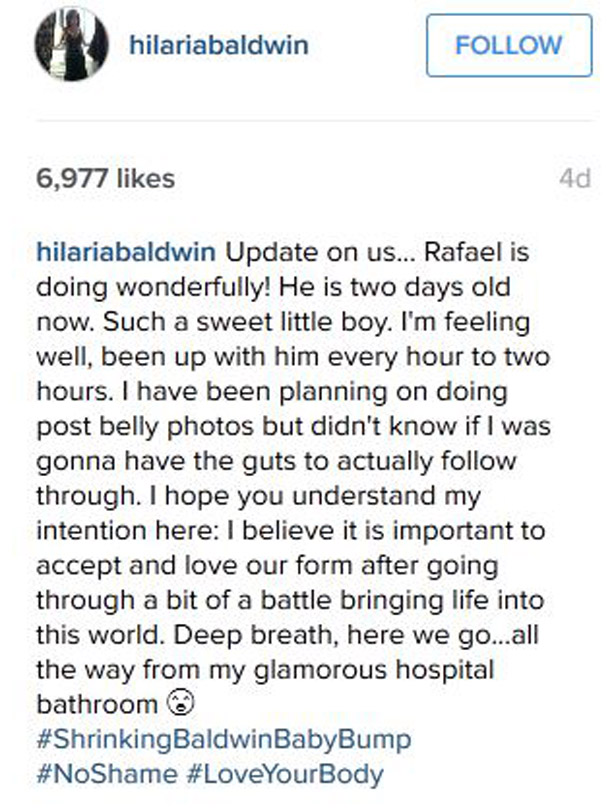 The mum-of-two described how it had taken 'guts' to post the first pic, taken just two days after giving birth to little Rafael Thomas Baldwin, adding, 'I hope you understand my intention here: I believe it is important to accept and love our form after going through a bit of a battle bringing life into this world.'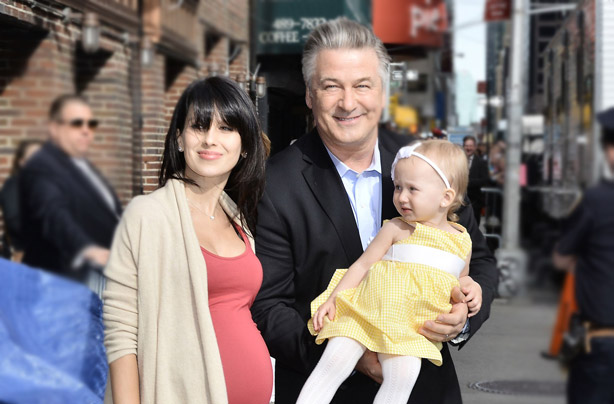 Hilaria is wife to American actor Alec Baldwin, who're already parents to little Carmen and now to baby Rafael
The second snap she posted was to quell speculation that she'd had a C-section.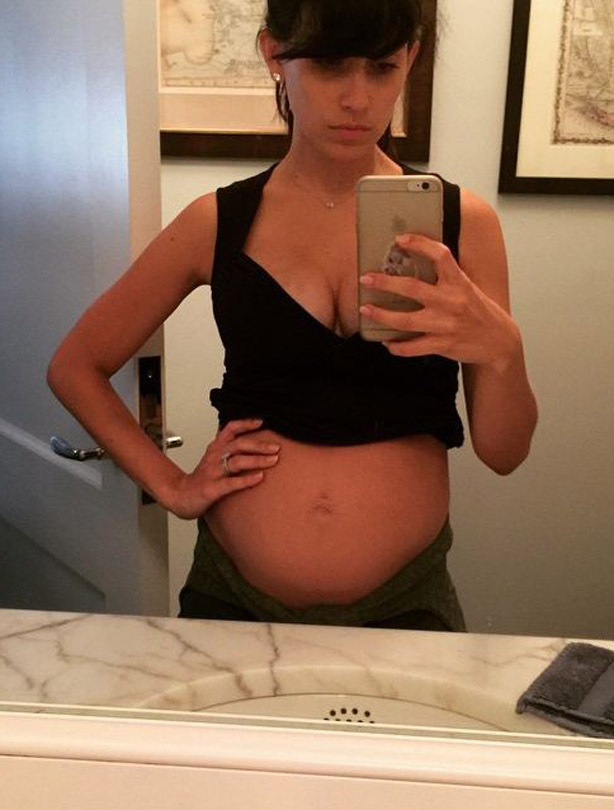 Image: Facebook/hilariabaldwin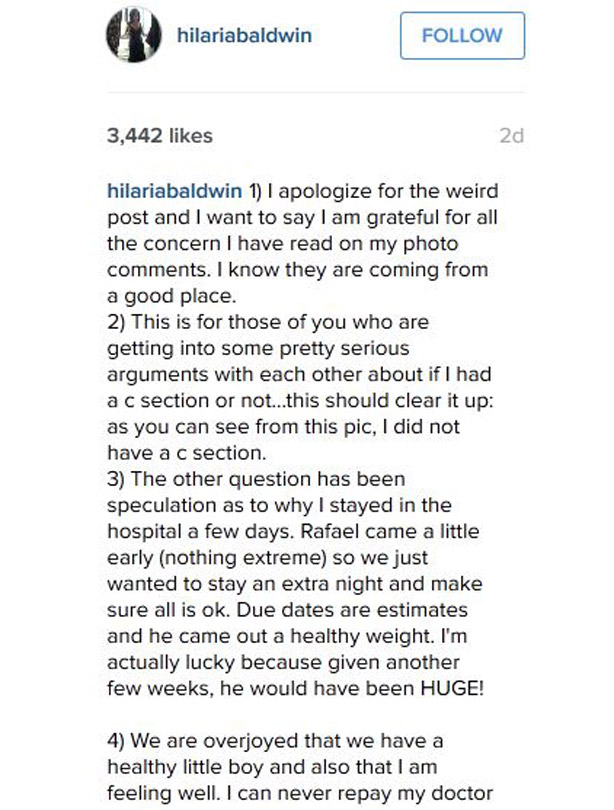 She wrote: 'This is for those of you who are getting into some pretty serious arguments with each other about if I had a c section or not...this should clear it up: as you can see from this pic, I did not have a c section.'
Kate Middleton

Kate Middleton received praise from mums everywhere when she emerged from hospital after having both Prince George and Princess Charlotte with a very visible mum tum, choosing not to try and cover it with a big floaty dress, but to show it off instead. And she looked gorgeous!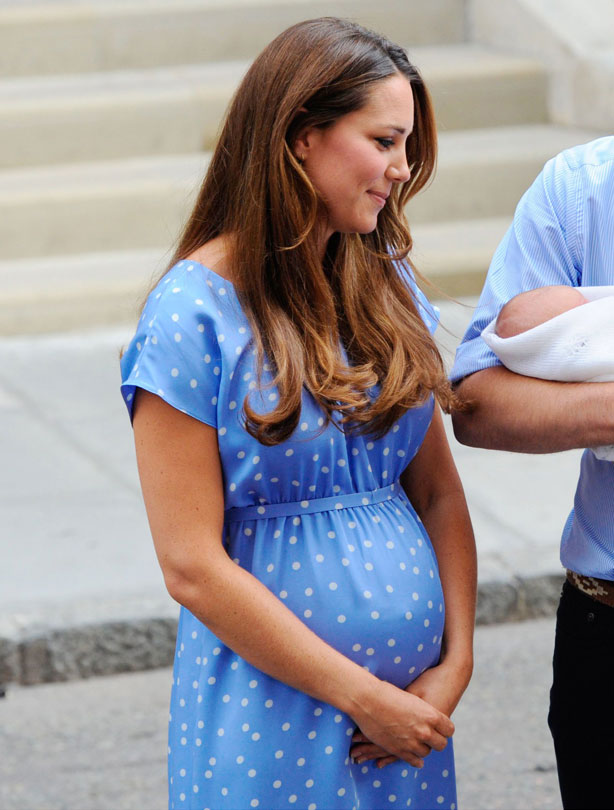 Good on you ladies for proudly showing us exactly what a woman's body looks like after you've brought new life into the world, and what a marvellous excuse to show off!
Would you be brave enough to show off your mummy tummy like Hilaria? Let us know by leaving a comment below!