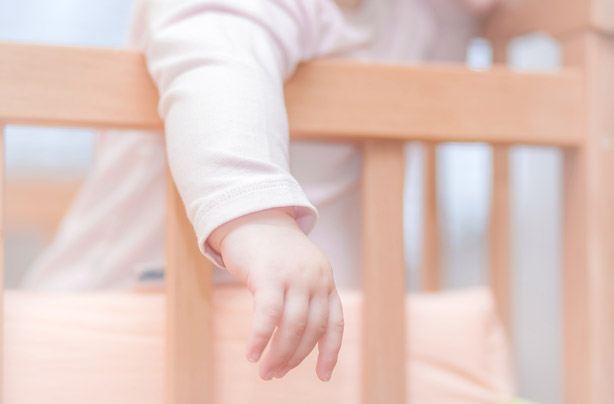 Continued below...
Safety is always a parents' biggest concern.

We'll spend hours trawling websites for the 5* kids products and pour over reviews and recommendations before parting with our cash, in the knowledge that we're making the best possible choices for our child.

Unfortunately, however, sometimes companies can get it wrong.

Concerns surrounding kids' cot beds have come to light in recent months, after a particular item was recalled from sale when it nearly caused the deaths of two young children.
The Baumhaus Nutkin cot bed was recalled from sale in 2013 after two children were seriously injured.
The Nutkin cot bed, by Baumhaus, was pulled from stores after the bed brought two young children 'very close to serious harm or death'.
The concerns were the potential 'trap-hazards', i.e. places where children could trap their head and neck in the gaps at the top, and their fingers in the drill holes. It was also concluded that children's clothes could snag on the sides of the bed, also potentially trapping them.
Although the original design was recalled, there is a new, modified version still available for around £500.
More recently the Baumhaus boss, who is facing a £20,000 fine or possibly even a prison sentence, admitted that there may still be some potentially dangerous cot beds in use. Speaking to consumer watchdog, Which?, he said that while 93 per cent of the cot beds have now been recalled, a small number could still be in use.
If you still have one of the recalled Baumhaus Nutkin cot beds, get in touch and they'll organise a collection for you.
3 crucial cot bed checks
1. Width between bars
The space between the bars should be no more than 6.5cm to prevent your baby from getting stuck. This is particularly important to remember when buying a second hand cot bed, which might not adhere to the latest safety standards.
2. Height adjustable base
This allows you to alter the height as your baby grows, keeping him or her secure from a little baby to when he or she can pull themselves up to stand.
3. Drop sides
It is worth considering whether you want fixed or drop-sides. US safety regulations on cot beds were changed in June 2011, banning drop-sides after a series of babies were killed after being trapped beneath them. British nursery furniture experts state that the differences in UK cot bed design mean that it would not be possible for incidents like those in the US to happen on a British-made bed - but if you're still worried, fixed-side cot beds are are available instead.