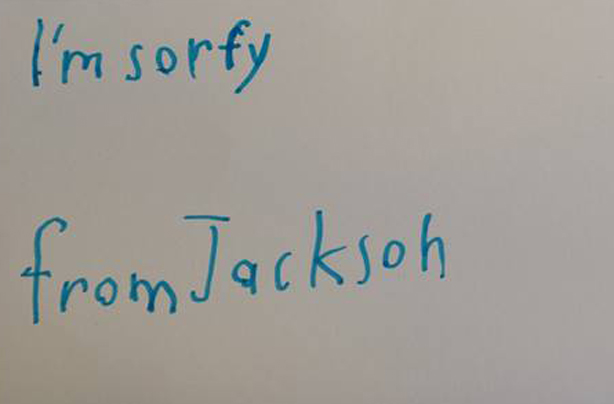 Image: Facebook/
Toronto Public Library
A young boy called Jackson from Toronto, Canada, felt so guilty about damaging a book from his local library that he wrote a handwritten note promising that it wouldn't happen again!
In the adorable letter, which was posted on the Toronto Public Library Facebook page and has been shared almost 1000 times, Jackson explains that he fell asleep whilst reading and ripped one of the pages accidentally.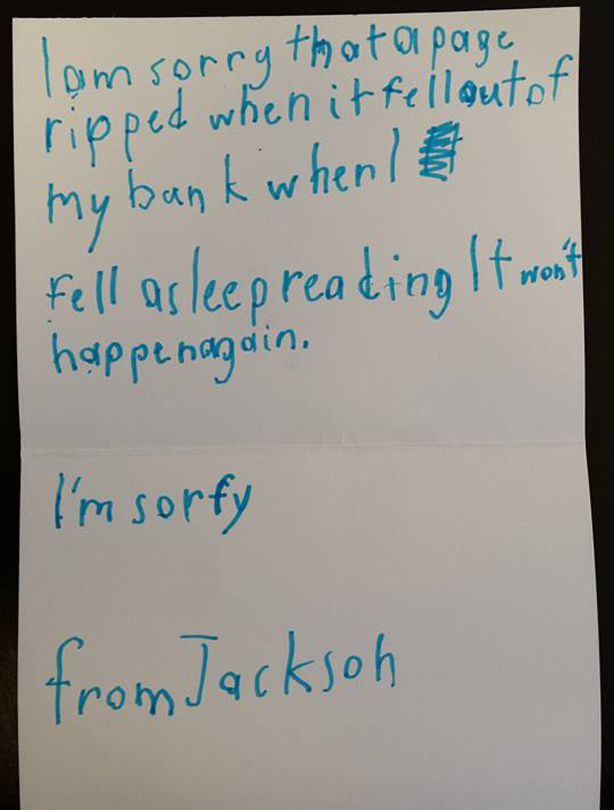 Image: Facebook/
Toronto Public Library
'I am sorry that a page ripped when it fell out of my bunk when I fell asleep reading,' he wrote. 'It won't happen again. I'm sorry. From Jackson.'
The library shared the photo of Jackson's apology with the caption: 'Found in the book drop @ Main Street branch :) Here's to many more nights falling asleep with a good book, Jackson!', and followers of their page were quick to compliment Jackson not only for his honesty, but for his choice of bedtime activity.
'How precious! Yay for kids that still read a book before falling asleep!', one wrote, whilst another commented, 'You're so honest Jackson! Keep it up. Falling asleep while reading happens to everyone. So don't worry. I know the library will understand. And your gesture to be apologetic and honest is the most important lesson here. Thanks for inspiring us old folks.'
'Keep reading every night Jackson, fall asleep and let the books slip away.. You seem like a great kid, thanks for being you!' one of the other comments read.
'Oh, Jackson, it happens to the best of us!' another added.
Commenters also praised Jackson's parents for raising such a well-mannered son: 'Awwww that is just too sweet….what a nice boy (and good parents to teach him) to write a note to apologize for something he did..instead of just saying oh well it was an accident they won't know…that is very nice….and I love, love that he likes to read!'
Continued below...
Jackson has not yet been identified, and library staff can't trace him because their system only records the last borrower for 24 hours. However, if anyone does manage to track the little guy down, we imagine there'll be a whole lot of book donations coming his way...