Martine McCutcheon plays Essentials Truth Or Dare!
Family life, her struggles with fame and her fab new fashion collection, former Eastenders star Martine McCutcheon tells all in an exclusive cover story for the November issue of Essentials magazine.
As well as divulging her style secrets, the chic new mum agreed to play a little game of Truth or Dare with us. Watch the exclusive video below to see what happened and read on for a sneak preview of our revealing interview...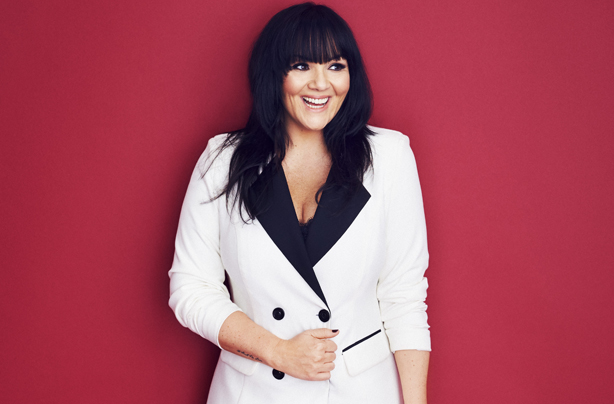 On juggling work and motherhood...

Some women feel they lose some of their own identity in motherhood, while others just glow from being a full-time mum. I don't think anyone should feel guilty about keeping your own sense of self, as well as being the best mum you can be - and if that means going out to work, you should.
On her passion for fashion...
When Fashion World asked me to design a capsule collection, I was really excited. Getting to design clothes I love and can wear myself is like my dream. The collection isn't 'plus-size'; it's designed for all shapes and sizes. The term 'plus-size' can be insulting, especially if you're referring to women who are a size 16 and under. The average woman in the UK is a size 16, so to call them 'plus-size' is just not accurate.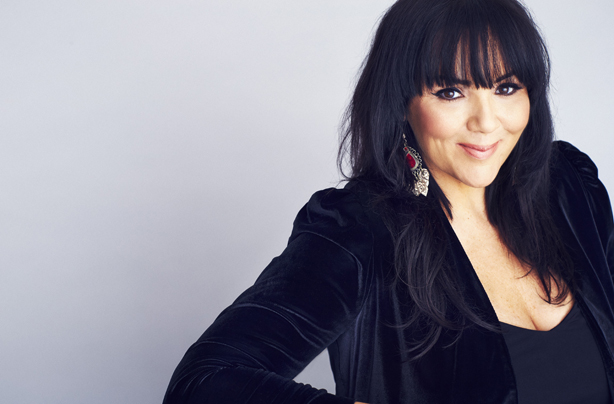 On the pressure to be thin...
I've always had to work a bit harder to find clothes that flatter my body shape. Even when I was a size 8, I had an hourglass figure with boobs and thighs - there were times when I was younger I found it really hard because I couldn't fit into a sample size 4. Being in the public eye, you are constantly scrutinised and compared to girls who are five foot tall and a size six - it's crazy because I'm not a model and it's not my job to be that tiny.
On learning to love her curves...
It doesn't matter what size you are, every woman will have hang-ups about certain parts of their body, but if you put on the right outfit, you can suddenly feel your best again. It's all smoke and mirrors - creating illusions with certain angles and cuts that are failsafe. My shape is naturally very soft and feminine, so I need structure in my clothes to balance that.
On keeping it real...
I love curvy bodies, women like Halle Berry, Penélope Cruz, and Beyoncé 
are great because they celebrate being women. Besides, you learn that none of what you see in magazines is real. I've seen them all on the red carpet and they're beautiful, but none of them are perfect.

The Martine McCutcheon for Fashion World Collection is available at fashionworld. co.uk. Prices range from £25-£70 and all items are available in sizes 12-32.

To read the full interview with Martine, pick up the latest issue of Essentials on sale now.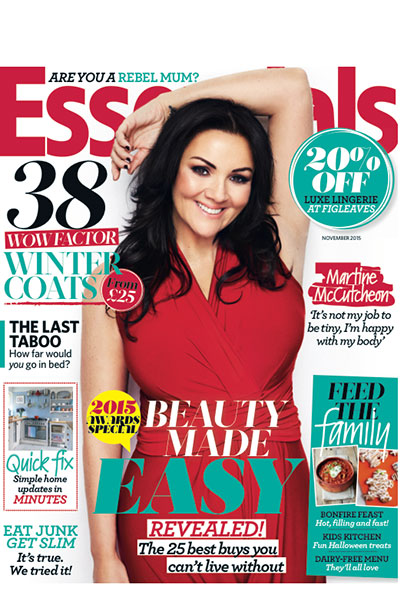 Inside the new issue you'll find:
Exclusive interview with Martine McCutcheon: 'It's not my job to be tiny, I'm happy with my body''
2015 Beauty Awards Special: 25 best buys
38 Wow-factor winter coats from £25
The Last Taboo: How far would you go in bed?
Quick fix: Simple home updates in minutes
Feed the family: Bonfire feast and Halloween treats
20% off luxe lingerie at Figleaves
Your rating