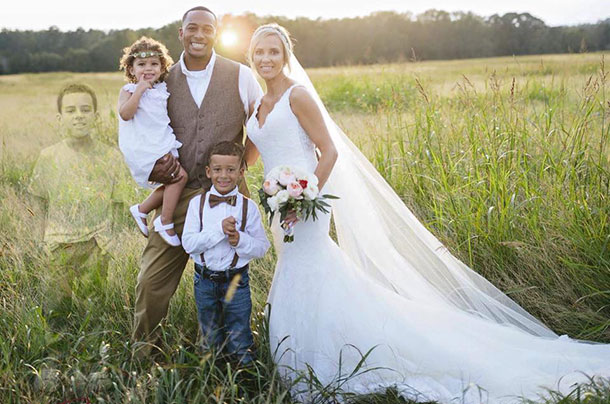 Image:
Brandy Angel Photography
Mother Anna Bozman Thompson faced any parent's worst nightmare when her eldest son, Lake, died of leukemia just months before her wedding day.
Lake died in May after a three-year battle with the childhood cancer but thanks to the help of photographer, Brandy Angel, the whole family has been reunited once again in a series of emotional photographs.
Anna shared the special pictures of her tying the knot to her long-term partner in October on the Facebook page, Prayers for Lake Bozman.
'I decided to finally share it mainly because it made me feel somewhat complete again.'
Photographer Brandy was able to create a beautiful edit of the wedding pictures to include a faint vision of Lake, so he appears serenely posing alongside the family.
Anna, from Georgia, USA, said; 'I do know that Lake has been watching over us especially when we got married…he made sure that it would be a day that none of us would forget.'
But the grieving mother almost didn't go through with the pictures on the day as she said she became 'anxious and irritated' at the thought of having to take them without her eldest son.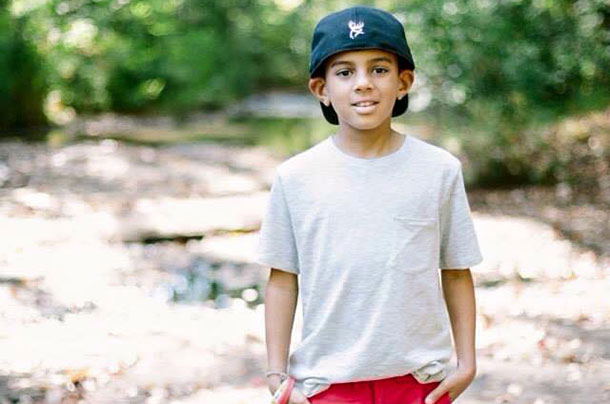 Image:
Brandy Angel Photography
'I have honestly been making it minute to minute as grief is a huge roller coaster.'
'I needed this picture more than anyone could ever know. THIS is my family.'
Incredibly, as Brandy was editing the photos, she also noticed a bright light in all of them that doesn't move or disappear.
When she explained this anomaly to the mother she said; 'I told you my baby would show up.'
Describing the viral reaction to the photos, which have appeared across news stations in America, Anna explained; 'Lake will be up there giggling and snickering cause he knows how much I dislike being filmed and talking on camera.'
Continued below...
The family hope that sharing Lake's story will raise awareness around childhood cancers; 'If today just one person regained their faith, found hope, was inspired to make a change, became an advocate for childhood cancer, joined the bone marrow registry, forgave someone, or pushed through another day because of our journey, it was worth it.'