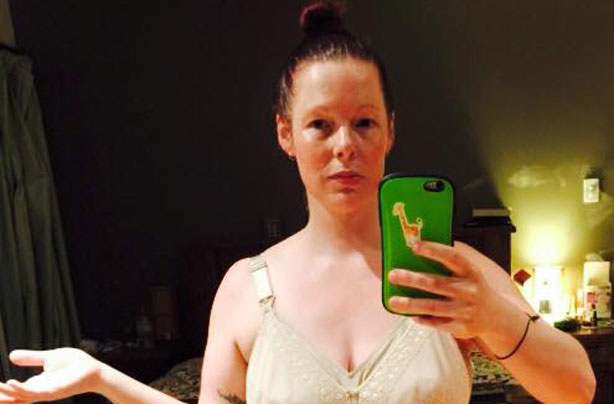 A new mum's Facebook post has gone viral after she hit back at a personal trainer for suggesting that she 'obviously wanted to get back to her pre-baby weight'.
Mel Rymill, 33, from Adelaide, South Australia, shared a picture of herself in her underwear using the hashtag '#badassundies', writing:
'So I had my first session with a PT today and the first thing she said to me was "Obviously you want to get back to your pre-baby weight". It wasn't a question, it was a statement.
'And it pissed. Me. Off.
'I corrected her nicely by simply saying "my goal is to regain my core strength and endurance... I'm not worried by how my body looks, only how it functions... it can be pretty badass".'
Mel has played roller derby for nine years, but her high-risk pregnancy meant that she had to stop exercising for the duration. She explains that the off-hand comment made her realise how much pressure there is on all sizes and shapes of body, and how much scrutiny women are under.
'Post pregnant women are told they look good if they return to their pre-baby body quickly leading to the assumption that they look bad if the keep the extra weight,' she continued. 'Skinny people are envied for their lack of fat or shamed for apparently starving themselves. Voluptuous women are either labelled fat and shamed or they're labelled brave for being comfortable in their own skin. There is always pressure.'
'So here I am. I may not be magazine ready, my nana undies and bedtime nursing bra are certainly not going to be rocking a runway anytime soon, my hair is greasy, I have no makeup on, my body is squishy and plentiful, I'm not even sure I'm totally ok.
'But I am strong. My body is healthy.
'Hell, I am badass as fuck!
'Screw what society wants from me. This is what's on offer.'
Read Mel's post in full
Since she shared her picture, Mel's post has received more than 7,000 shares and garnered comments from supporters around the country.
'You just made a whole person, and your body is now feeding that whole person. You can look however the fuck you want. Go you!', one said, whilst another simply typed, 'You are a gorgeous badass!!'
Mel says that she never expected her post to go viral, but the response has been incredible regardless.
'It was really a spur of a moment thing,' she said in an interview with Today.com. 'I looked in the mirror and started getting down on myself before snapping out of it and remembering that my body is amazing. It allows me to do amazing things.'
Continued below...
'It's been great to see people reclaiming the power and owning their own bodies,' she added. 'It's not about whether you are big, small, lumpy, cuddly, boney, shaped like a dodecahedron, a woman, anywhere on the gender scale or anything else you can think of. #Badassundies is about reclaiming the world we live in and flooding it with real bodies, no, real people!'