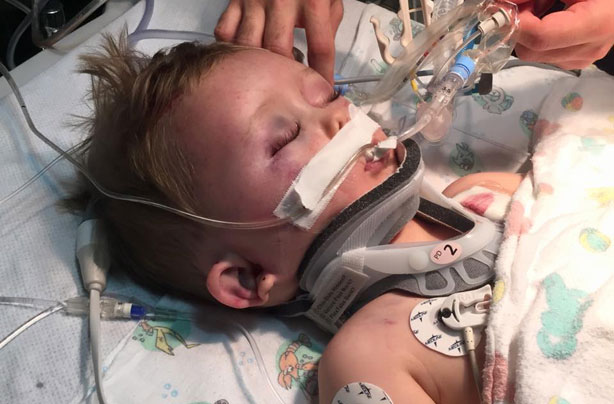 A mother's picture of her son on life support after a devastating car crash has gone viral, after she begged parents to ensure their car seat safety knowledge.
Meghan Felker posted the harrowing image of her 23-month-old son Eli on her Facebook account, writing: 'We have had a horrible night tonight and our heart is torn into a million pieces. Our sweet boy isn't going to make it with the fracture to his brain (he basically had a stroke) & his spinal cord injury.'
'If there is one thing I want parents to take from this is PLEASE PLEASE make sure those buckles are tight and your sweet little one is rearfacing as long as possible. We may of still had our boy if this way done.'
She added that when she tells other parents about the mistakes they're making with their car seat, she isn't trying to be critical, she's trying to save lives.
'When I say something to parents about car seat safety I'm not trying to be mean or hateful, i just know what can happen. And this is what can happen,' she explained.
'PLEASE make sure your little one is seated correctly.'
A GoFundMe page has since been set up by family friend Tiffany Heimbach, which explains that Meghan's other child, three-year-old Maddy, had also been involved in the accident, but only required a short stay in hospital.
'Eli was not so fortunate,' Tiffany writes.
'Eli was life flighted from the accident scene and admitted to ICU. He has internal bleeding, swelling, a skull fracture, brain bleeding, and a spinal cord injury.'
'The family has been told that sweet Eli will not be coming home.'
In the UK, weight-based car seats must be rear facing until your child weighs more than 9kg, but in America, where Meghan lives, the advice is based around age limits - although the American Academy of Pediatrics recommends keeping kids rear facing until they reach the height or weight limit of their car seat. Rear-facing car seats support the child's head, neck and spine better in a crash.
Megan's Facebook post has since received more than 10,000 shares from others hoping to raise awareness of the importance of car seat safety, and rear-facing seats in particular.
'So strong of you to use this horrible tragedy to make it your mission to get the word out about rear facing,' one commenter wrote. 'You may not feel like it right now, but you're a strong woman.'
Megan said in a comment on the GoFundMe page, 'I can't belive how many people out sweet boy's story has reached! Me and my family are beyond thankful for all the thoughts, kind words, prayers, & donations.'
Continued below...
'We are forever grateful for all the support from our family, friends, & complete strangers during this time.'