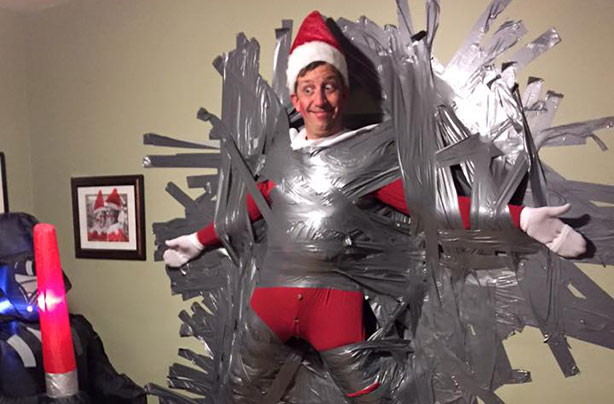 Ever thought doing Elf On The Shelf for your kids everyday was a lot of work? Well, think again...
In the run up to Christmas, parents go to extra lengths to preserve the
Christmas magic
for their kids for as long as they can until they grow up.
One of the most fun traditions to get children excited about the festive season is welcoming one of Santa's little buddies - an Elf On The Shelf - with which you can create tonnes of different scenarios and surprise your kids everyday when they wake up, or come home from school.
But while kids tend to love the excitment of finding out what their little elf friend has been up to while they're gone, it can be a lot of work for parents to have one more thing to worry about, on top of everything else.
But if you ever thought your daily Elf On The Shelf duties were a lot of work, then this dad will put everything in perspective.
Joe Wynberg, who lives in America, decided to entertain his four kids by turning himself into Elf On The Shelf. If that doesn't sound like much effort to you, remember that means committing to 24 days of getting himself into very tricky scenarios...
On day one, his wife innitiated proceedings by writing on Facebook: 'So we finally caved and decided to do the "Elf On The Shelf" thing. The kids are going to be so surprised! We named our elf FLE and he will be in some pretty precarious spots over the next 24 days! Enjoy.'
On day two, Fle was already being very naughty and ate all the kids' advent calendars.And it just kept getting worse... Who's cleaning up that mess?
After only four days of having not-so-little Fle causing mayhem at home, his wife had enough.
'I am sad to say that I had to return our "Elf On The Shelf" FLE. I am just not cut out for that kind of work. Thank you everyone who liked and shared my posts over the last few days,' she wrote on Facebook on 4th December.
But Fle made a glorious comeback the next day, much to Megan's dismay.
On day 6, he got up to some dangerous chimney climbing... He ruined the Christmas tree on day 7... And then he definitely ruined a wall in the name of Christmas magic.
Fle still has 14 days left to get himself into even more trouble so we can't imagine what he'll do next.
Continued below...
But extra dad points for Joe - this will certainly be an unforgetful Christmas for his kids (and the Internet)!