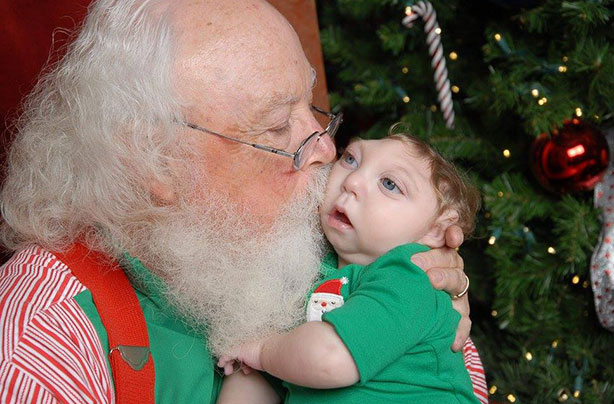 Christmas can be a pretty magical time, for both children and adults, especially when you're lucky enough to meet Santa in person.
The big guy is adored because of all the presents he gives out, but we should give him more credit for all the other things he brings children - love, joy and hope.
As you can see from these moving stories, Santas have been doing amazing things for children lately, and preserving everyone's Christmas joy while they're at it.
Try to not to cry...
Fashion Santa who is raising money for ill children


Whilst most shopping centres have a grotto complete with a Santa and his team of elves at this time of year, Yorkdale Shopping Centre in Toronto, Canada have recruited a rather special Santa.
With many failing to miss that Father Christmas seems to have some added sex appeal this year, we've been wondering who is Fashion Santa?
Fashion Santa is a real Canadian (a rugged one at that) called Paul Mason and has been a model for the past 30 years.
Paul has been appearing at the Yorkdale Shopping Centre in Toronto, Canada to pose for photos. For every photo that's uploaded with the hashtag
#YorkdaleFashionSanta
, the mall will donate $1 to The SickKids Foundation in his honour.
Thumbs up for this North Pole resident who isn't just warming up mums everywhere, but helping charities in the process.
The Santa who was just out doing his shopping
This little girl was out shopping at a DIY store with her mum and she definitely didn't expect to see Father Christmas amongst the other shoppers.
When she noticed him wearing a red shirt and with his famous white beard (admittedly he was pushing a trolley instead of a reindeer and sleigh) she knew exactly what to do.
Approaching Santa, and with some encouragement from mum (who can't contain her joyful laughter), the man decides to play along. The would-be Santa, real name Roger, asks 'Have you been a good girl this year?' to which she shows off her festive manicure. A girl after our own hearts.
He goes on to ask what she will be leaving out for Santa, which presents she is expecting to get and even explains that it is hard for reindeers to eat grass in the North Pole because there is too much snow.
At the end the little girl's mum, who is filming the meeting, says; 'She just can't believe you're here!'
To which Father Christmas explains that he has to be getting on as there are still lots of toys to make for other children.
Not a dry eye in the house.
The Santa who gave a boy with part of his skull missing his 'best day ever'
In what is one of the cutest photos with Santa ever, the big guy gave Jaxon Buell, a baby born with parts of his skull missing, 'one of the best days ever'.
His mum, Brittany Buell, shared the pictures of little Jaxon being cuddled by Santa and falling asleep on his arms on Facebook.
In the post, which got over 45,000 likes and more than 3,000 comments in one day, she wrote: 'He was in a great mood all day and got to meet Santa for the very first time. Tonight, we started watching Rudolph and Jaxon became very talkative with mummy.'
Too cute!
The Santa who gave a powerful message to a boy with autism
When six-year-old Landon Johnson talked to Santa at a shopping centre in the US, it all went according to plan and they parted ways. But Landon forgot to tell him something important and decided to go back.
What he needed to tell Santa was that he has
autism
, because he was worried that that might land him in the naughty list.
Santa's reaction to the little boy's confession was one of the best they've encountered to date, according to Landon's mum, Naomi Johnson, who posted the sweet story on Facebook.
After calming him down, Santa asked Landon if it bothered him having autism, to which Landon said 'yes, sometimes'. He opened up to the man with the white beard and said that he gets in trouble at school and that people sometimes don't understand him. The wise Santa then taught Landon a great life lesson: 'It's OK to be you.'
Landon's mum Naomi was moved to tears when she saw her little boy's face light up. 'Mommy tells him all the time that he's special and I love him the way he was made, but it's always nice to hear it from others. To be told that it's ok to be who he is', she wrote in the her Facebook post, that's been shared over 50,000 times.
The Santa who comforted a boy after he suffered a seizure
Two-year-old Ryland Wade suffers from epilepsy and spastic quadriplegia cerebral palsy, which means he can have multiple seizures every day.
But his parents don't want his condition to stop him experiencing life, especially during the festive season, so they took him to see Santa in a special event for children with special needs.
But just before getting to the event, Ryland had a seizure and couldn't open his eyes to meet Santa.
'It really sapped his energy but we didn't want that to stop him from meeting Santa. I mean, we've got to keep on going. We've got to give him a chance to experience things,' Ryland's mum wrote on Facebook.
But that wasn't a problem for the big guy, he totally went with it by pretending to be taking a nap while holding Ryland.
'He knew what Ryland needed in that moment, and that was a quiet, relaxing experience with Santa. He didn't try to wake Ryland up, he didn't just smile for the camera and then look for the next person in line. He saw that Ryland was sound asleep, tired from a seizure earlier that day, and would obviously not be responsive… and he still took his time holding and enjoying my son. It seemed like such a small act of kindness, but to us it meant so much more.'
Can we have a medal for the Santa of the year please?
The Santa who got caught off guard in a cafe
While the other Santas are usually in their red gear and expecting children to come up to them and ask them for presents, this man had to unexptectedly step up to the role.
At a fast-food restaurant in Ontario, Canada, a man with a white beard who looked a lot like Santa, was approached by a little boy, who according to onlookers must have been about four or five six years old.
Instead of crushing the boy's joy of seeing Santa in flesh and bones, the man smiled and asked if he had sent him a letter yet, to which he said he would be doing it tonight.
He then told him to be nice to his mum and sister because he's watching, before 'going back to the North Pole to finish the toys with the elves'.
Mark Hurson, who shared the story on a Facebook post that's had more than 19,000 shares, said the encounter left everyone 'teary eyed' and finished off by stating: 'There are some great people left in the world.' We agree!
The Santa who pretended to be asleep to not awake a sleeping baby
When a six-month baby passed out from excitment while waiting to meet Santa for the very first time in his life, his parents thought they would just wait until he woke up.
'My son just gave the biggest yawn and crashed his head on my shoulder,' Zeke's father told Buzzfeed.
But Santa had other plans for little Zeke Walters. 'Don't wake your child; we got the perfect shot,' Santa said.
Of course the Internet loved Santa's adorable photoshoot with Zeke, with the photos being shared nearly 200,000 times. And we bet Zeke's parents were grateful for not having to wake up a sleeping baby!
The Santa who absolutely made a little girl's day
A Santa surprised parents when he started communicating with a little girl using
sign language
at the Cleveland Centre in Middlesbrough.
The touching moment of was recorded in a 40 second video, which shows Santa attempting to to talk to the girl, but not managing to get her attention. After being told she can't talk very well by her mum, Santa asks: 'Can she sign at all?'
Continued below...
The rest of the video shows a moving interaction between Santa and the little girl using sign language about she wants for Christmas.