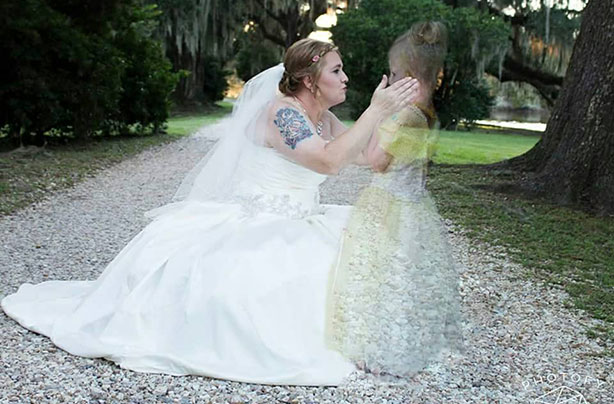 A bride was reunited with her late daughter on her wedding day thanks to her photographer friend.
Amanda Crowe Freebird lost her six-year-old daughter, Azalee, in 2013 after a battle with cancer.
The little girl was diagnosed with stage five neuroblastoma, the most aggressive form of childhood cancer, just before her fifth birthday.
Amanda couldn't imagine going through her special day without her daughter, so she decided to ask her photographer friend, Ashley Frantz, for help.
'The thought of taking my wedding pictures without her hurt my heart so bad,' Amanda said in an interview with Yahoo7.
Ashley, the photographer, said she knew it wouldn't be easy but she was up for the challenge, especially for such a special reason.
'She's a dear friend to me and so when she asked, I knew I had to figure how to make it happen,' the photographer said.
'I wanted to create the photo for her because I'm a mom myself and I can't imagine life without my daughter.'
So thanks to Ashley's efforts, Amanda was able to share her special day with Azalee, and the result is truly moving.
In one of the pictures, the bride-to-be is seen sharing an emotional moment with her daughter, cradling her face while Azalee gazes at her.
The photo has gone viral on social media, with over 84,000 likes and nearly 10,000 shares.
Of course Amanda is forever thankful to her friend Ashley for giving her what she most wanted on her wedding day - to have Azalee present.
'You can't put a price tag on the happiness she has brought to my broken heart. Azalee was my best friend, and the love we shared was so special and Ashley knows that and she put her heart into creating a beautiful memory for me', Amanda said in the interview.
In another photo, Amanda is seen walking away in her wedding dress, holding hands with Azalee.
But these amazing pictures weren't the only tribute to Amanda's daughter on her wedding day.
During the ceremony, Amanda and the groom released butterflies in Azalee's memory, and all guests were teary-eyed when one butterfly in particular landed on the bride's dress.
Continued below...
Ashley wrote about the emotional moment on a Facebook post: 'We all know it was Azalee, just a little whisper from her and God saying "congratulations" and letting everyone know she was nearby to help her mommy cross over into her new path of life. She was a true gift from above.'