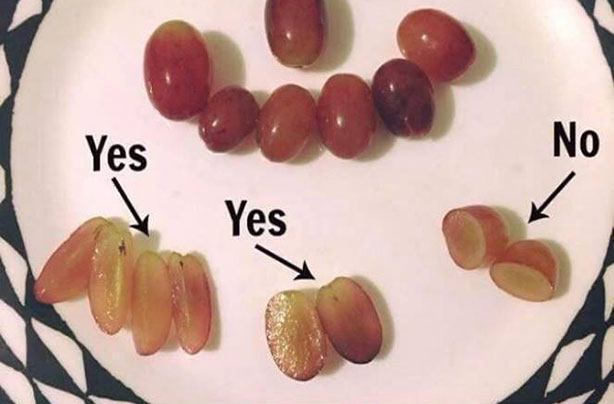 A mum has issued an urgent warning to all parents reminding them of the dangers of young children eating whole grapes.
Sophie Jackson posted to her Facebook page about the 'worst day of her life' when her son, Jake, almost choked to death on a piece of fruit.
Despite Sophie cutting up her toddler's grapes - she has done so ever since reading the devastating story of two-year-old
Jacob Jenkins
who died after suffocating on a grape at Pizza Hut - her son was still in danger.
Writing on her social media page, Sophie explained how the potentially deadly situation quickly unfolded at her family home in Kingston Upon Hull.
'Tonight Jake sat down on the sofa near my dad he got a couple of grapes and put them in his mouth my dad called me straight away and before I got the 2.5 metres to Jake he was already choking.
Luckily Sophie and her parents were trained in first aid, but after several unsuccessful attempts to dislodge the blockage, they started to panic.
'I immediately put him over my knee and hit his back several times. It didn't work I put my fingers down his throat, I couldn't feel the grapes. Jake wasn't able to breathe. I knew I needed to ring an ambulance.'
Her daughter Ellie began to say that her brother was 'going to die' but after several minutes, where the toddler turned purple, his grandmother was able to use her nail to pop the grape and make the 'smallest amount of room' in Jake's airway.
In a picture that accompanies the Facebook post, Sophie has displayed how all parents should be cutting grapes before feeding to their little ones - lengthways not across the middle.
Sophie was told by doctors that Jake was 'extremely lucky to be alive' and she has asked that all parents remember to cut their child's grapes as 'nothing is worth loosing them.'
Continued below...