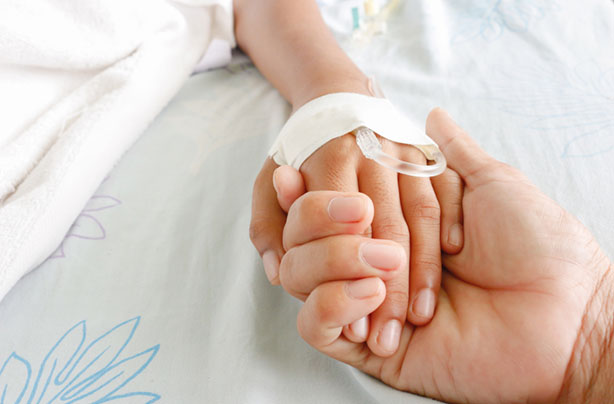 HLH is a life-threatening condition that can easily be mixed up with common illnesses like chest infections. Read our guide on the condition, including what symptoms to look out for.
Last month, a 20-year-old who was described by her family as healthy, died unexpectedly as a result of HLH.
Chelsea Jackson initially went to the hospital because of a sore throat, and was sent away with antibiotics after doctors diagnosed her with a common case of tonsillitis.
However, the condition triggered HLH, the life-threatening disease that led to her death just three days later.
Chelsea died just three days after her diagnosis
Sadly this is not the first time the dangerous and obscure disease has been in the news in recent weeks.
In November last year, Natalia Spencer's five-year-old daughter, who she described as being a 'very fit, active and healthy child', became ill with what looked like a 'simple chest infection'.
However, Elizabeth's health quickly deteriorated and just a few hours later she was diagnosed with HLH. Her body went into septic shock because of the condition, which caused her major organs to fail and the blood supply to her limbs to being cut off.
Speaking to the Gloucestershire Echo, Elizabeth's mum said: 'I couldn't believe it to begin with. In the morning I thought she had a flu and in the evening I was told she probably wouldn't make it.'
The little girl spent 18 days on life support, in an intensive care unit at Bristol University Hospital, but sadly passed away on 10 December 2015.
'Her immune system killed her', Natalia told the newspaper. 'It's devastating for a mother to see a child like that. It was 18 of the most heart-breaking days.'
Her mum Natalia is now
fundraising
in memory of her little girl to support hospitals and hospices that will make a difference in the lives of children all over the country.
On the page she set up in memory of her little girl, Natalia wrote: 'Elizabeth was an amazing and very special girl, she loved life and was always happy. She was my little "chatterbox" with an infectious smile and a very kind, generous, caring heart which was full of love. She was exceptionally beautiful inside and out. I miss her every second of every day.'
But what is HLH?
HLH, or Hemophagocytic Lymphohistiocytosis, is an auto immune disease that can either be genetically inherited (FHL) or acquired, which is referred to as secondary HLH.
Secondary HLH, which is the same illness that affected Elizabeth, is usually triggered by other conditions like viral infections or factors like vaccinations and underlying diseases like cancer.
When the condition is triggered, the body has an abnormal immune response, producing white blood cells that attack other cells, tissue and organs if not treated early enough. The exagerated reaction of the immune system becomes an infection the body cannot fight.
What symptoms should I look out for?
HLH is tricky to diagnose because its symptoms can be the same as common infections, like Elizabeth's chest infection, and also because it's usually caused by underlying conditions. Symptoms may include:
- Persistent fevers
- Rash
- Enlarged liver
- Enlarged spleen
- Enlarged lymph nodes
- Anemia
- Low platelets
- Low white blood cells
- Jaundice
- Hepatitis
- Liver failure
- Respiratory issues (coughing, respiratory distress)
- Seizures
- Altered mental functions
HLH can only be properly diagnosed with blood tests, but it's important to look out for the signs.
How is HLH treated?
Treatment for secondary HLH usually starts by treating the underlying condition that has triggered it. Additional immunosuppressive therapy can be required in some cases.
Continued below...
If you're worried about HLH, it's important to speak to your doctor as soon as possible