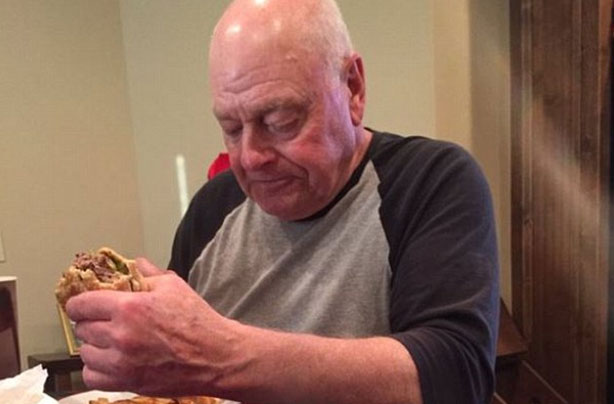 The Internet is collectively up in arms about a grandfather who made enough dinner for six of his grandchildren but only one turned up.
Kelsey Harmon posted the snap of her 'Papaw' on Twitter with the caption, 'dinner with papaw tonight...he made 12 burgers for all 6 grandkids and I'm the only one who showed. Love him'. And let's just say, Twitter wasn't best pleased with Kelsey's five cousins.
In the picture you can see Kelsey's Papaw sitting at his table, covered in a red check cloth, eating a homemade burger and chips alone (apart from Kelsey who took the picture).
https://twitter.com/kelssseyharmon/status/710257327031451648
Despite probably thinking this was a rather ordinary picture to post, Kelsey's story has resonated with thousands of people, causing an outpouring of sympathy.
With many a funny meme and touching message Kelsey has had a huge number of responses. One user posted a snap of a crying girl saying, 'who let papaw eat his burgers alone'.
WHO LET PAPAW EAT HIS BURGERS ALONE pic.twitter.com/plPLs7zcfA

— tram (@jksolos) March 17, 2016
And despite the tounge-in-cheek style of many tweets, Kelsey has actually had to defend her cousins from 'death threats' from other Twitter users after people became so incensed at their lack of courtesy for their granddad. Kelsey took to Twitter shortly following the first snap of her granddad to tell the Twitter world: 'papaw is ok guys I promise & he loves all grandkids equally, plz stop sending my cousins death threats everything is ok !!!!'
Kelsey, who now has 20.2k followers on Twitter, had her snap of her granddad eating his burger retweeted 122,221 times and has had so many messages and well wishes in response that she's struggled to reply to people, saying that it's 'impossible' to get back to everyone.
In a subsequent post tweeted three hours ago Kelsey thanks everyone for being so kind, saying her and her Papaw are 'shocked' by the response. In the lengthy word note she also goes on to express how moved she is that her picture has inspired others to spend more time with their families.
https://twitter.com/kelssseyharmon/status/710685174804054016
Kasey writes: 'I've...had many, many messages telling me my post encouraged people everywhere to visit their grandparents. And that means so much to me.'
Continued below...
One of Kelsey's cousins has even responded by finally making the trip to see his grandpa. Brock Harmon tweeted a picture of their granddad tucking into another burger (this guy LOVES burgers) with the caption: 'guys don't worry!!!! I came to Papaws house and am having a burger!!!'
GUYS DON'T WORRY!!!! I CAME TO PAPAWS HOUSE AND AM HAVING A BURGER!!!!!!! pic.twitter.com/2EHVllGG2U

— Brock Harmon (@BHarmon_10) March 17, 2016
But even that wouldn't satisfy Twitter with one user replying: 'u had ur chance bruh. that's our papaw now
u had ur chance bruh...that's our papaw now https://t.co/kC8V8vn2O2

— nathan zed 🥀 (@NathanZed) March 17, 2016
We're so glad Kelsey's granddad got the love and appreciation he deserved in the end!