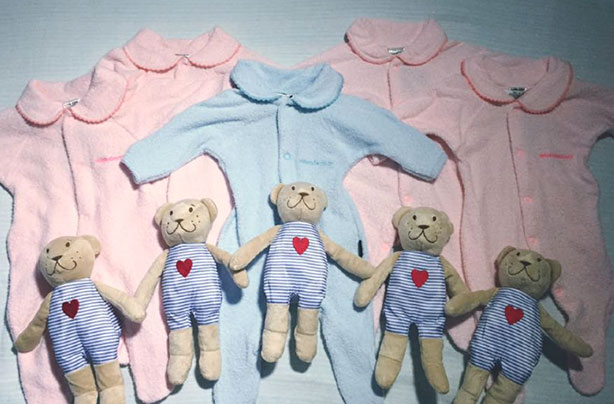 A mother of quintuplets has had to call in extra support from up to 150 volunteers to help her cope with the mammoth task of '50 nappy changes and 40 bottle feeds' per day.
They, say it takes a village to raise a child, and Kim Tucci is finding out just how true that is as she prepared to care for her five newborns, Tiffany, Penelope, Beatrix, Allie, and Keith, as well as her three elder children.
The mother-of-eight, who blogs at Surprised By Five, put out an appeal on Facebook for assistance with tasks such as feeding and nappy changing.
The 26-year-old is working alongside the Perth and Districts Multiple Birth Association, who wanted to trial the idea of a community support scheme to assist the Tucci family.
Kim and her husband Vaughn, who live in Perth, Australia, welcomed their four girls and one boy on 28 January at only 30 weeks. The babies are currently being kept in an intensive care unit, but the family are wasting no time in recruiting all the hands they can for when the brood returns home to join their three older siblings – a nine-year-old son from Kim's previous marriage and two daughters.
The Multiple Births Association designed an appeal poster saying; 'We are looking for volunteers who love and have some experience of babies to provide hands-on help supporting the parents to care for their babies.
'Volunteers will assist with feeding, changing and settling babies, washing and preparing bottles, making up cots, reading to older siblings and hanging out and folding washing.'
It isn't all hard work for the volunteers though - Krista Bingham who is running the trial, told WA Today; 'They'll also help with cuddling the babies which is really important because multiple birth babies need cuddles just as much as single babies do.'
One approved volunteer has already taken to her Facebook page to share her excitement at being chosen to help the family; 'This is such an amazing experience that I was so happy to apply for. I cant wait to meet your family Kim and help you in anyway I can.'

Kim took to her social media page to thank fans for all the support in the last few 'frantic' weeks; 'I have been lucky enough to have an array of people behind me pushing me through.'
Continued below...
'I can't say thank you enough for all the love and support everybody has given me and my family. The hospital is doing an amazing job keeping all the babies safe and infection free.'